Unique Valentine's Day Dinner Ideas That Will Wow Your Date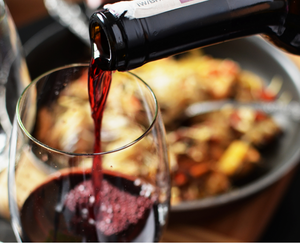 Looking to "wow" your Valentine with your cooking but unsure about what to make? Don't stress! We have 8 unique Valentine's Day dinner recipes that you and your significant other will love. All of our recipes are loaded with flavor and are easy to make -- because you don't need to slave away to make a beautiful meal that will impress your date. Enjoy a lovely evening over any of these tasty recipes!
Comfort meals are perfect for a cold Valentine's date night. By using our Colorado Spice Coconut Curry Sauce blend, you can create this warming bowl of comfort in just a few short minutes with minimal prep and cleanup. 
If you haven't made scallops before, it's time to elevate your seafood game. Not only are scallops sweet and buttery and extra tasty with our Sweet Mesquite Siracha blend, but they're also considered to be an aphrodisiac! An ideal Valentine's Day meal, if we do say so ourselves . . .
These pretty pink Ravioli scream Valentine's Day in oh, so many ways. Sweet and savory with a beautiful pink color, we are in love with this heavenly recipe!
Pasta is a classic romantic meal! Upgrade your traditional pasta with our Tomato Basil and Chipotle blend. This blend is a classic flavor combination that tastes great on just about anything including in our creamy Tomato Basil Chipotle Pasta recipe. 
If it's French, it's romantic right? Well, we think so. French onion soup is incredibly comforting and absolutely divine. There aren't many things better than a thick slice of toasted bread loaded with melty Gruyere cheese and lots of caramelized onions. How could your Valentine say no to that!?
Is your date a burger lover? Why not make an non-traditional Merguez seasoned lamb burger! These burgers are incredibly juicy and loaded with riveting flavor from our Merguez blend which is a combination of cumin, paprika, coriander, fennel, garlic, onion, cinnamon, nutmeg, and cloves. 
A romantic fondue on Valentine's Day is such a treat. Cheese fondue is an easy entrée to prepare and you can have fun choosing different dippers like bread, apple, shrimp, and cherry tomatoes! Just be sure to make chocolate fondue for dessert!
While prime rib is popular for the holidays, it's also perfect for a decadent Valentine's meal . . . it is a winter holiday after all! Especially when paired with a tannic Cabernet or robust Merlot, this is a fantastic Valentine's Day dinner idea.
If you're planning to cook this Valentine's Day, we hope our spice blends can help you create a wonderful meal for you and your special person to enjoy together! "Food is symbolic of love when words are inadequate" - Aland D. Wolfelt 
Leave a comment
Comments will be approved before showing up.