8 Ways To Make Everyday Cooking So Much Easier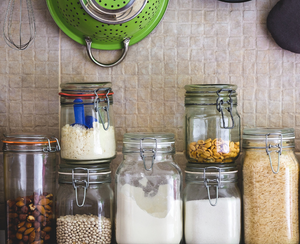 As a company who is passionate about simplifying life in the kitchen, we love clever cooking hacks! Below are 8 cooking hacks that are simply brilliant and are guaranteed to make any Home Chef's life a lot easier!
Slice Steak Fries With An Apple Slicer 
Instead of trying to cut your potato or sweet potato into perfect wedges, let your apple slicer do the hard work for you. Once sliced, coat the steak fries with olive oil, and some Colorado Spice Seasoning Blend (like our Sassy Seasoned Pepper or Herb & Garlic Pepper Blend). In no time at all, you'll be left with homemade restaurant-style fries!
Freeze a Soup Starter 
Garden-fresh flavor can be achieved year-round with this easy hack. Simply freeze your farmers market produce in resealable bags to be used for a soup starter! Make sure you blanch the vegetables first, however. A classic soup starter called a mirepoix is made by combining 2/3 onion with 1/3 carrot and celery -- a great kick starter for soups and broths. The best part about this hack is that frozen vegetables last 8-12 months! 
Freeze Single-Serve Sauces 
Upcycle your egg cartons for small single portions of pasta sauce. You can also do this with your ice trays. Cover and freeze leftover pesto or marinara and transfer cubes to a resealable freezer bag. To use, thaw cubes in your fridge for 2 hours.
Prevent Bowls & Cutting Boards From Slipping
This is a hack that all professional chefs use. All you need to do is place a damp dish towel under your mixing bowl or cutting board to prevent slipping and sliding on your counter as your mix or chop! 
Chill Wine In Minutes 
There's nothing worse than forgetting to chill your wine, (especially when you're hosting guests!). This hack will save you from ever having to settle for lukewarm rose, or bubbly. Just use a tall pitcher about the height of your wine bottle and get cooling. Immerse the bottle in ice water with a small handful of salt and turn every few minutes or so. You'll have chilled booze in under 20 minutes!
Make Frozen Dinner Rolls Seem Homemade 
Thaw your frozen dinner rolls and brush the tops of the rolls with an egg wash and some seasoning -- we recommend using our Everything Blend or our Citrus Dill Salmon Rub (trust us, it's fantastic on more than just salmon!). Bake accordingly and impress your family or guests!
Keep Your Ginger In The Freezer
Whether you use fresh ginger on a weekly basis or only on occasion, keep your ginger in the freezer. The ginger will last longer and is super easy to grate when it comes time to cook! You can also grate the frozen ginger to make a ginger-paste, which can also be kept in your freezer. 
Label Jars The Thrifty Way 
Making labels is time-consuming and a label-maker can be pricey. When your pinched for time, grab some mason jars, thick rubber bands, and a sharpie. Wrap the rubber brand around your mason jars, label your jar and you'll know exactly what's inside (no guessing or mix-ups!). We love this thrifty kitchen hack!
Leave a comment
Comments will be approved before showing up.