Tarragon: Uses, Benefits & Recipe Ideas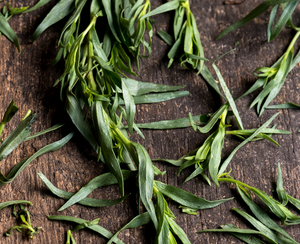 Tarragon is an aromatic herb that has a subtle licorice flavor. It adds a fresh spring taste with a bit of elegance to recipes, which is perhaps one of the reasons the French love to use this herb in their cooking! From dressings, to sauces, chicken and seafood dishes, there are plenty of ways to use the delicate flavor of this slender-leaved green plant.
Loved By The French 
The most commonly used tarragon is French tarragon. In France, tarragon is referred to as "the king of herbs" because of its ability to elevate a dish. It is one of the four herbs in the French mixture fines herbes, -- a combination of parsley, tarragon, chervil, and chives. 
Tarragon Varieties 
While most recipes use French tarragon, there are other varieties of the herb as well, such as Spanish tarragon and Russian tarragon. Spanish (also known as Mexican) tarragon has golden flowers and is a bit richer in flavor than French Tarragon. Russian tarragon is stronger and bitter than French tarragon & is often used to flavor drinks. 
Cooking With Tarragon 
Fresh tarragon has a more pronounced flavor compared to dried tarragon, so if substituting dried for fresh, be sure to double the quantity. Fresh tarragon should also be used raw or added to the end of cooking, whereas dried tarragon is often added early on in recipes.
Try tarragon in your own lemon salad dressing or dip, on pan-fried or baked chicken and fish, summer roasted vegetables and more! 
Give our Tarragon Chicken Recipe a try using our Tarragon Chicken Rub. 
This seasoning blend is a perfect balance of garlic, salt, rosemary, tarragon, parsley, thyme, and spices. Simply add this blend with olive oil to poultry or seafood of your choice for a wonderful meal prefect for cozy winter evenings, or warm summer nights!
Potential Benefits 
Tarragon is low in calories and contains several nutrients like manganese, iron, and potassium. Studies have also found tarragon to be a good blood sugar stabilizer ,and interestingly, tarragon essential oil is an antimicrobial and can be used to help prevent food born illnesses such as E. Coli. 
Grow Your Own Tarragon 
Tarragon is a perennial plant meaning it grows year-round. Grow this herb in your garden or in a sunny spot inside! Looking for some gardening tips? See our gardening blog for 8 easy vegetables to grow in your garden this year. 
Leave a comment
Comments will be approved before showing up.