Tarragon Chicken Rub Recipe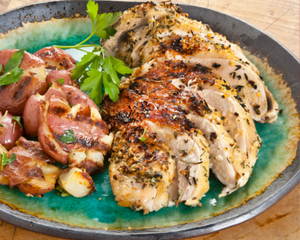 This one is a fan favorite and a Colorado Spice classic! This recipe is a go-to option for both a warm winter comfort meal, or take it outside and use your smoker to give it some summer time flavor. The combination of rosemary, tarragon, garlic, thyme, and parsley in our Tarragon Chicken Rub makes for a simply perfect roast chicken, no matter what the occasion. 
Ingredients:
1 whole chicken
Colorado Spice Tarragon Chicken Rub
Olive Oil (1/4 cup)
Yep, that's it!
Chef's Recipe:
First, place your cleaned whole chicken on a cutting board. Then, mix the Tarragon Chicken Rub with 1/4 cup of olive oil. This will really bring out each element of the spice blend and evenly distribute the flavors across the roast.
Pour 1/8 cup of the oil and spice mixture into the cavity of the bird and shake. Then place the bird on a broiler or roasting pan and, with a BBQ brush, paint the remaining 1/8 cup over the entire chicken and season to taste.
Place a sheet of aluminum foil over chicken like a tent. Roast the chicken on the middle shelf at 350 degrees F for 2 minutes per pound. If using an outdoor smoker, set to a low temperature (160-200 degrees F) and cook for about 3 hours. When done (internal temperature of about 165 degrees F), remove from oven or smoker and allow to stand for  5 minutes. Slice and serve with your favorite smashed potatoes recipe and greens!
Leave a comment
Comments will be approved before showing up.