Spice Up Your Grains | A Simple Colorado Spice Cooking Hack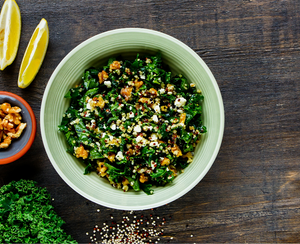 Your rice and quinoa doesn't have to be bland. With the right Colorado Spice Seasoning Blend, you can easily enhance the flavor of your favorite grains. Below, we have recommendations for which Colorado Spice Blend pairs best with 5 of our favorite grains! 
Quinoa is a protein-packed grain that can be used in a variety of ways. We recommend using our flavorful Salsa Verde Blend in an easy quinoa salad. Simply combine quinoa, bean, corn, tomatoes, cilantro, lime, olive oil and a generous pour of the Colorado Spice Salsa Verde Blend. Mix and enjoy!
Make a beautifully seasoned rice with our Colorado Spice Herbs De Provence Blend. Herbed rice is a delicate side dish that tastes absolutely wonderful in the summertime. To cooked white rice, simply add butter and a generous pour of our Herbs De Provence Blend -- filled with herbs like basil, parsley, rosemary, thyme and delicate lavender flowers. Enjoy a simple, fragrant rice with the protein of your choice!
Couscous is the perfect addition to poultry, beef or fish. Cook your couscous in a combination of water and vegetable broth. Once cooked, add some lemon juice, parsley, and the Colorado Spice Gold 'n' Garlic Blend. This spice blend adds a beautiful golden color to the couscous grain and a bit of heat from the chili pepper flakes. Want a vegetarian meal? Add some sautéed veggies and chickpeas to the golden couscous for a quick plant-based dinner!
Make a faro summer salad with feta, sun dried tomatoes, red onion, mint, lemon juice, olive oil and a generous pour of the Colorado Spice Everything Blend. This seasoning blend adds simple flavor & wonderful texture from the crunchy sesame seeds -- perfect for a grain-based salad!
Make a hearty summer salad that can be enjoyed on a hot summer afternoon. To cooked bulgur, add sautéed zucchini (cubed),cooked corn, cotija cheese, diced jalapeño, black beans, olive oil and some of the Colorado Spice Lime Pepper Blend. You will love how this seasoning blend provides the perfect balance of sweet and tangy flavor to this recipe!
How do you like to spice up your grains? Share with us down below!
Leave a comment
Comments will be approved before showing up.