Simple At-Home Ahi Poke Bowls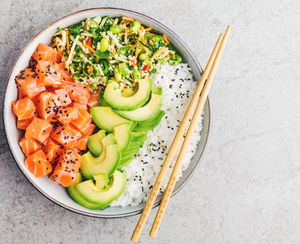 Going out for poke bowls is a real treat! But it can be expensive and you might not know if the fish being served is high-quality. The next time you have a hankering for a delicious poke bowl, try making your own right at home! This poke bowl recipe is very simple and customizable. Don't like tuna? Use salmon or tofu instead. The beauty of making it at home, is that you can make your poke bowl however you like!
Quality First
Perhaps the hardest part about this recipe is seeking out quality fish. You want to find ahi tuna that's sushi-grade. The best way to do this, is to talk to someone at your grocery store (like Whole Foods) or fish market. Explain that you will be eating this tuna raw, and they should have a good idea about which fish is best for you. You could also do a Google search of specialty Japanese stores in your area. 
Ingredients
For the tuna
1 lb.

 

sushi-grade ahi tuna, cut into bite-size pieces
1/4 c.

 

low-sodium soy sauce
2 tsp.

 

rice vinegar
2 tsp.

 

sesame oil
1 tbsp. Colorado Spice Ahi Tuna Rub
1 tsp.

 

freshly grated ginger
2

 

green onions, thinly sliced, plus more for garnish
1 tsp. toasted sesame seeds, plus more for garnish
For the spicy mayo
2 tbsp. mayonnaise 
2 tbsp. siracha 
For bowl fixings
2 cups cooked short grain brown rice or sushi white rice 
1 1/2 cups of peeled and diced cucumber 
1 1/2 cups of edamame 
1 1.2 cups of shredded carrots 
1 avocado sliced
Directions
1). In a large bowl, whisk together soy sauce, rice vinegar, sesame oil, ginger, Colorado Spice Ahi Tuna Rub, green onions and sesame seeds. Add tuna and toss to coat. Refrigerate for at least 15 minutes or up to 1 hour. 
3).  Make the spicy mayo by whisking together the mayonnaise & siracha. 
2). To serve, add rice to the bottom of four bowls. Top with tuna and bowl fixings. Garnish with green onions, sesame seeds, and spicy mayo. Enjoy!
When you're in a dinner rut, this is a very simple recipe that makes for a satiating quick meal. Give this a try and be sure to share you like to customize your poke bowl! 
Leave a comment
Comments will be approved before showing up.