8 Vegetables To Grow In Your Garden This Year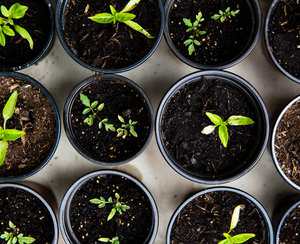 Gardening is an easy way to live with a greener thumb. Not only does it lower your carbon footprint, but it is healthier to grow your own food and saves you money (as you don't need to run to the supermarket as often for produce). Not to mention, it's a fun project that gets you outside!

However, if you haven't had experience, starting a garden can seem intimidating. Luckily, it's actually quite simple to have a successful garden if you grow the right crops. We've compiled a list of the easiest vegetables to grow that yield a great product and don't require much work, so you can enjoy cooking and eating delicious produce throughout the summer!

Lettuce


Lettuce is an easy-to-grow annual vegetable that reaches maturity in as little as 30 days. Plus, some varieties can even be harvested earlier as microgreens!
Lettuce is a cool weather plant so it can be planted in early spring or fall, as the seedlings can persevere through a bit of frost. Ideally, lettuce thrives when temperatures are between 60 to 70 degrees F.
You can find inexpensive lettuce seeds at just about any general store or pick up lettuce plants at your local nursery. If planting seeds, plant at a depth of ¼ to ½ inch deep in well-drained soil with compost.
When the seeds begin to grow, you'll notice that some areas will have too many plants clustered together. It is important to thin a few of those out so the plants have room to grow.

Spinach


Spinach can be planted year round in most climates as it is very cold weather friendly! Plant in the sun or shade but direct sow the spinach for best results.
When seedlings sprout to about two inches, thin them to 3-4 inches apart. Beyond thinning, no cultivation is necessary.
Green Beans

Green beans are a simple plant to grow with an abundant harvest. They are another plant that you will need to direct sow. Plant green beans in well-drained soil where they will get adequate sunlight. Place a thick layer of compost over the row. Then directly plant the seeds into the compost.
Cucumber

Cucumbers are a warm weather crop that should be planted after the lasts spring frost. They can be planted directly into the ground but you can start them indoors.
This crop likes warm weather, loose, organic soil and plenty of sunlight! Water regularly and fertilize monthly.
Yellow Summer Squash

Summer squash is another one of easiest vegetables to grow! For a quicker harvest, start your squash seeds indoors, or buy squash seedlings at a local nursery.
Just be sure to give your squash plants room to sprawl by planting them 3 to 6 feet apart. Grow them in an area that gets 6 or more hours of sun and has rich, well-drained soil and you'll have plenty of squash to pick throughout the summer!
Carrots

Carrots are one of the easiest root vegetables to grow. They can be directly sown into the ground or grown in a container.
The key to growing successful root vegetables is to not overcrowd the seeds and have loose dirt for them to grow in. Be sure to plant in compost as well.
When the tops of the radishes or carrots get to be big, green, and bushy it is time to pull a few to test their size!
Bell Peppers

Bell peppers love heat! Do not plant them until after all threat of frost has passed.
Be sure to place them in direct sunlight where they will get the most sun all day long. You will need to plant them 4-6 inches apart into well-drained soil and be sure to remember the compost.
Water regularly and fertilize monthly.
Tomatoes

There is no comparison when it comes to homegrown tomatoes, so at the very least, grow a tomato plant!
Start indoors 4-6 weeks before transplanting outdoors or buy starters.
Once you have your seedlings, plant them in full sunlight in well-drained soil. It is important (just as with the peppers) to be sure that all threat of frost is gone before planting.
Water regularly and fertilize monthly.
Tips About Fertilizing
Most vegetable plants require a few boosts of fertilizer now and then to reach their full potential.
Vegetables like tomatoes, peppers, and cucumbers, are heavy feeders from the soil. This means that as they grow, they begin depleting the soil of nitrogen, potassium, and other vital nutrients. So be sure to choose high-quality natural fertilizer for your plants.
Reap What You Sow
We hope this blog encourages you to start the very rewarding hobby of gardening. Once you begin to harvest your produce, be sure to use our high-quality seasoning blends for sauces, dressings, and marinades when cooking with your fresh produce!
Leave a comment
Comments will be approved before showing up.