Tomato Basil and Chipotle Pasta Recipe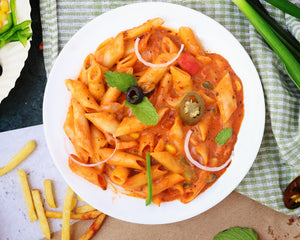 Tomato Basil and Chipotle is a classic flavor combination that tastes great on just about anything. You can use it in a variety of dishes like steak, seafood, poultry, or veggies! It's a spice blend that you can always keep on hand and get creative with on your own. Our favorite way to use this spice is in a rich and flavorful seafood pasta. All you need for this recipe is one pound of 26-30 shrimp or smaller, 12oz of penne pasta, olive oil, bell pepper, celery, carrots, heavy cream, and one packet of Colorado Spice Tomato Basil and Chipotle seasoning.  
To begin, prepare your penne pasta according to package directions. While you're waiting for the pasta to cook, peel and de-vein your shrimp. 26-30 shrimp simply refers to the size of the shrimp. In one pound of 26-30 shrimp you should find around that number of shrimps. This size is a medium sized shrimp and is the most common and readily available in most markets.
When your pasta is done, drain the noodles and toss them in one tablespoon of olive oil before you set them aside. This will keep the noodles from sticking to each other as they cool. In a medium sized sauté pan, heat two tablespoons of olive oil. Add the entire amount of cleaned shrimp to the oil as well as the entire package of Tomato Basil and Chipotle seasoning. The shrimps will become pink and firm as they begin to cook. Now you can add your veggies.
Add one chopped bell pepper, one chopped celery stalk, and two small sliced carrots. Stir continuously and cook until veggies are al dente and the shrimps are cooked through. When shrimps are finished they should have an internal temperature of 120 degrees Fahrenheit. Now you can add two cups of heavy cream to the mixture and stir to incorporate. Reduce the heat and simmer on low to allow the sauce to thicken. When it has reached the desired consistency, typically after about 5 minutes, you'll be ready to pour your sauce over your pasta and serve!
If you're feeling like something on the lighter side, Tomato Basil and Chipotle blend also makes a great homemade guacamole mix. All you need is three large ripe avocados and a packet of seasoning! Cut your avocados in half and remove the pits. Now remove the pulp and place it in a mixing bowl. Add the entire contents of the Tomato Basil and Chipotle seasoning packet and mash the mixture with a fork or potato masher until you reach the desired consistency. Make sure your spice is mixed thoroughly. If you'd like to add something a little extra, add a half a cup of chopped onion and one cup of chopped tomatoes. Guacamole is best served at room temperature and eaten within two hours of preparation. Alternatively, you can also mix one packet of Tomato Basil and Chipotle seasoning with 16 ounces of plain yogurt to serve with vegetables or chips!
Leave a comment
Comments will be approved before showing up.