Coconut Curry Stew Recipe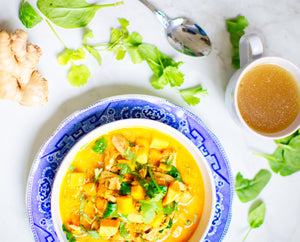 In the chilly months of winter, comfort meals are what hit the spot. Favorite comfort meal recipes may vary from person to person, but they typically have one thing in common – warmth. There's nothing better on a wintery day than coming home to a meal that's warming, hearty, and perfectly spiced. One of our go-to recipes for this exact purpose is our Colorado Spice Coconut Curry. By using our Colorado Spice Coconut Curry Sauce blend, you can create this warming bowl of comfort in just a few short minutes with minimal prep and cleanup. The beauty of our sauce is that since it's already inherently plant-based and gluten free, you can craft and customize your curry to suite the preferences of almost anyone.
Almost any curry starts with a base of vegetables. There are a variety of veggies to choose from, and really you can use whatever you have on hand in your refrigerator. Some typical veggies you may use are broccoli florets, diced carrots, sliced onion, sliced red bell pepper, snow or snap peas, cauliflower, potatoes, and spinach! There's really no wrong answer when it comes to choosing your vegetables. Get creative and experiment with whatever you have on hand.
If you'd like to add some protein to the mix, chicken coconut curry is a popular choice. Dice your chicken and heat your choice of cooking oil in a medium skillet. Add the chicken to the skillet and cook until completely done. Chicken should reach an internal temperature of 165 degrees. If using seafood or beef, make sure you follow these steps and cook to an internal temperature of 145 degrees. Tofu is another popular protein alternative often found in curry. We recommend using firm to extra firm tofu so that it holds its shape through the cooking process. Drain and press your tofu block to remove the majority of the liquid before cooking. Follow the same previous instructions as animal protein. Tofu is ready when it begins to brown.
Next you can add your choice of vegetables from the list above or whatever you have on hand. You may want to add fewer veggies if you've cooked a large amount of protein. Sauté the veggies until they begin to soften. We prefer vegetables to be al-dente, giving them a little freshness and crispness. You can add spinach at the very end of the cooking process to allow it to simply wilt and mix with the rest of the veggies. Now all you need to do is add the entire Colorado Spice Coconut Curry Sauce to the skillet along with one cup of water. Stir the entire contents of the pan and allow it to simmer. Allow the mixture to continue to simmer until the sauce has reached a desired consistency and the flavors of the curry have mixed thoroughly with the veggies and protein.
To make the sauce on its own, simply pour the entire contents of the Colorado Spice Coconut Curry Sauce packet into a sauce pan along with one cup of water. Stir and simmer the mixture over medium heat. Allow the sauce to thicken by removing the lid and continuing to simmer the sauce. Once the sauce has reached its desired consistency, it's ready to serve.
Serve over rice or quinoa, along with a slice of lime, some fresh basil or cilantro, and a pinch of red pepper flakes. Try it with traditional naan bread or, for an added twist, try making your rice or quinoa with coconut milk! You can add a 14 oz can to your 1 cup of dry quinoa along with ½ a cup of water and allow the mixture to boil for about 15 minutes. Once the quinoa is light a fluffy, you're ready to serve coconut quinoa! Similarly, add 1 14oz can of coconut milk to 1 ½ cup of jasmine rice along with 1 ¼ cup of water to make coconut rice. Enjoy!
Leave a comment
Comments will be approved before showing up.