Simple Prime Rib and Roasted Potatoes Recipe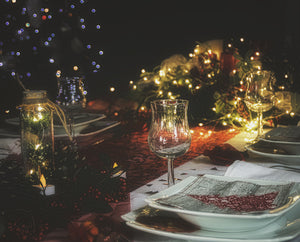 Prime Rib Roast and Sassy Seasoned Roasted Potatoes go together link peanut butter and jelly! Start a new holiday tradition this year by adding these recipes to your menu. They're easy to make and give you more time to enjoy your holiday outside of the kitchen. Top it off with a compound butter to complete this new holiday classic!
Sassy Seasoned Roast Potatoes
Use our Sassy Seasoned Pepper in your holiday sides to dress up a seemingly simple side dish. Roasted potatoes are a holiday favorite and come in many varieties. In this recipe, all you need is 2-2.5 lbs. of potatoes, cooking oil, garnish, and Colorado Spice Sassy Seasoned Pepper. The leftovers will also make an excellent breakfast hash in the morning!
To begin, preheat your oven to 425 degrees. Next, you'll need to wash and dice your potatoes. We recommend red potatoes or new potatoes for this recipe. While it can be made with any variety of potatoes, red potatoes are preferred because they are not only colorful, but they contain less starch than other potatoes. This means that they will hold their shape better when roasted. Cut your choice on potato into ½ inch squares.
Coat the diced potatoes in the cooking oil of your choice. We prefer to use avocado oil for its high smoke point when cooking at high temperatures. You can also use duck fat for an extra crispy, holiday flare. Next, coat the potatoes generously with your packet of Colorado Spice Sassy Seasoned Pepper. When all sides are covered in seasoning, spread the potatoes out on a rimmed baking sheet. Make sure the sheet isn't crowded, meaning there is some space between each piece of potato. This will result in crispier potatoes.
Place baking trays in the oven. If one tray is too full, split the potatoes between two trays and rotate the trays in the oven halfway through the roasting time. Every 20 minutes be sure to turn and stir the potatoes in order to evenly brown all sides. They should be ready in about 50 minutes when all sides are lightly browned, and the potatoes can be easily pierced with a fork. Allow the potatoes to cool slightly before garnishing with chopped parsley, bacon, and any other garnish of your choice. Serve warm with sour cream or all by themselves and enjoy!
Prime Rib Roast
While many holiday tables feature Turkey and Ham, a Prime Rib Roast makes a great main dish alternative. And it's the perfect accompaniment to your Sassy Seasoned Potatoes! When choosing your roast, the best choice would be a dry-aged and highly marbled cut of meat. The more marbled the meat, the juicier it will be and a dry-aged meat yields a more tender and flavorful roast. Keep in mind that a bone-in roast that is 4-6 lbs. can feed 4-6 people.
Once you've chosen a roast, make sure it is completely thawed and reaches room temperature. Place it fat side up so that the bones are facing down in your roasting pan. Generously season the outside of the roast with an entire packed of Colorado Spice Prime Rib and Roast seasoning. Next, place the roast in the oven and bake at 350 degrees. Check on it every 20 minutes with a meat thermometer until it reaches an internal temperature on 150 degrees for a medium to well done roast. Let the roast stand for five minutes before serving.
Serve your prime rib roast alongside some compound butter for an extra-special touch! Compound butter can be made with any Colorado Spice seasoning or sauce blend. All you need is your favorite blend, and room temperature butter. Fold one heaping tablespoon of seasoning into 1 stick (1/2 cup) of room temperature butter until fully combined. Next, you can re-form the butter into a log before serving by wrapping it in wax paper and placing it in the refrigerator to harden.  
Leave a comment
Comments will be approved before showing up.