Sassy Seasoned Mahi Mahi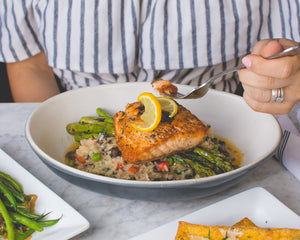 Instead of the usual grilled chicken or burger, Mahi Mahi steaks offer a great grilling alternative. It has a slightly sweet flavor and a firm texture that wont fall apart on a grill. Seasoned with our Sassy Seasoned Pepper blend, you can have a gourmet meal ready in minutes! Chilean Sea Bass, Swordfish or even Shark have a similar texture to Mahi Mahi and hold up well on the grill. Mahi also called Dolphin Fish and can be found primarily in tropical regions. This fish is particularly popular for its distinct flavor and dense steaks.
To begin, preheat your grill or oven broiler to a medium-high heat. Clean your fish steaks, inside and out, by rinsing and pat them dry. Now you'll be ready to add your spices. Sassy Seasoned Pepper pairs wonderfully with Mahi Mahi and many other types of fish. This spice is a great substitute for your usual black ground pepper in almost any instance, it adds a little extra zing and flavor with the addition of garlic, paprika, and other types of peppers.
Rub the seasoning generously on all sides of the fish steaks, place them on the preheated grill and cover. Grill until the steak begins to brown and you can see grill marks. This should only take a few minutes. Turn the fish carefully and continue to cook. You'll know your fish is ready if the internal temperature reaches between 140 and 155 degrees Fahrenheit. The inside of the fish should be opaque, tender, and slightly flakey.
Allow the fish to rest for a moment before serving. Mahi pairs well with other grilled veggies or with a slice of fresh lime and cilantro. Serve it one a bed of fresh greens and chopped tomatoes, or with rice and corn relish! Save the rest of your Sassy Seasoned Pepper for other grilling nights and use it on chicken, pork chops, steak and more! It also tastes great sprinkled generously over salads or in cottage cheese.
Leave a comment
Comments will be approved before showing up.