Orange Pepper Stir Fry Recipe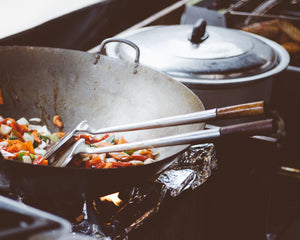 A stir fry is a quick and easy weeknight meal that you can whip up with almost anything you have in your fridge! All you need is protein, veggies, and the right seasoning. One of our favorite stir fry blends is the Orange Pepper Stir Fry seasoning. The savory and tangy yet sweet spice is a blend of orange peel, black pepper, salt, sugar, lemon peel, citric acid, garlic and other spices.  
To begin, heat 1 tablespoon of your choice of cooking oil in a large non-stick skillet. Add ¾ - 1 lb. beef stir fry strips. You could also substitute beef for chicken, seafood, or tofu. Brown the beef on all sides and add 1 ½ - 2 cups of stir fry veggies. This could be sliced mushrooms, onion, bell pepper, snow peas, or any other veggies you prefer. Cook the mixture for five minutes, until the veggies are al dente. Now add the entire pouch of Orange Pepper Stir Fry seasoning. If necessary, add ¼ cup of hot water. Allow the stir fry to simmer on low heat in order to blend the flavors. Remember to cook poultry to an internal temperature of 165 degrees Fahrenheit and beef and seafood to an internal temperature of 145 degrees. Serve your stir fry over rice or pasta and you're ready to eat!
Orange Pepper Stir Fry seasoning is so versatile, it can be considered an all-purpose seasoning and there are many ways to use it in your kitchen. One option you may not even realize is to use this spice as a turkey rub! The citrus flavor pairs perfectly with poultry and can provide an unexpected and delicious twist on the traditional turkey roast. Begin by cleaning your turkey and rinsing it under cold water to drain. Next, slice an onion into thick slices and place it in your roasting pan. Take half of your packet of Orange Pepper Stir Fry seasoning and shake it into the cavity of the bird. Shake the entire bird to ensure that the seasoning coats the entire inside of the cavity.
Now place the bird on top of the onions in the roasting pan. Sprinkle the remaining seasoning over the top of the bird. You'll want to seat the bird's legs under the wire roasting frame or skewer them into place with wooden kebab sticks. Now you can roast your bird at 350 degrees. Cooking times can vary, calculate your cook time based on the size of the bird. You can estimate about 15 minutes per pound of bird. A general rule of thumb is to cook the turkey until the juices run clear and the internal temperature is 165 degrees Fahrenheit. Let the turkey stand uncovered for 15 – 30 minutes before carving. Garnish with orange slices and you're ready to serve your orange pepper turkey!
Ingredients:
1 ½ - 2 cups stir fry veggies
¾ - 1 lb beef strips or other protein
1 T cooking oil
Colorado Spice Orange Pepper Stir Fry seasoning packet 
Rice or pasta to serve 
Leave a comment
Comments will be approved before showing up.