Simply Scrumptious Balsamic Chicken & Veggies Sheet Pan Dinner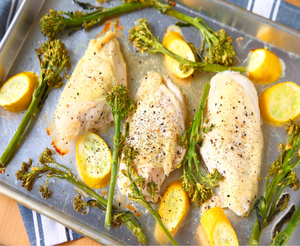 Easy clean-up plus quick cooking times make one pan dinners a total game changer when it comes to weeknight cooking. Especially after a long day of work, trying to feed yourself and your family can feel like the most daunting task in the world. Heck! Even when we aren't drained of energy and hangry, sometimes it's just nice to throw everything in the oven, and take a moment to sit back and relax before dinner. This is why we are ramping-up the convenience meter, with our Balsamic Chicken & Veggies Sheet Pan Dinner Recipe, which we know you will love and appreciate! 
The Recipe
This recipe calls for our Balsamic Chicken Rub. This blend provides the perfect balance of sweet and acidic flavor which will make for some juicy chicken breasts and tasty veggies.
Ingredients: 
4 boneless, skinless chicken breasts
2 large sweet potatoes, diced 
2 heads of broccoli,
4 tablespoons olive oil
1 packet of Colorado Spice Balsamic Chicken Rub 
Directions: 
1). Preheat oven to 400 degrees F and line a baking sheet with aluminum foil. Lay sweet potato, chicken, and broccoli in 3 sections on the pan. 
2). Drizzle/ rub olive oil over all ingredients then evenly sprinkle the Colorado Spice Balsamic Chicken Rub. 
3). Bake for 35-40 minutes, or until chicken reaches an internal temperature of 165 degree F. 
4). Pair with a delicious red wine, and dinner is served! For a quick clean-up, just toss the aluminum foil from the sheet pan.
Simplify Dinnertime
Whether you are in a pinch, or simply aren't in the mood to cook, sheet pan dinners are a great way to simplify mealtime. Additionally, as the weather gets colder, letting the oven do the work for you will not only give you a much needed break but it will also warm your house at the same time! Stay tuned for more simple and scrumptious sheet pan dinner recipe ideas. 
Leave a comment
Comments will be approved before showing up.