Merguez Seasoned Lamb Burgers Recipe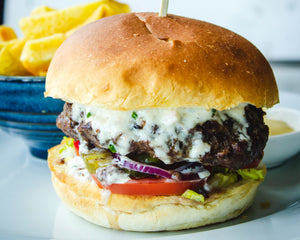 Merguez is a traditional sausage of North African descent that has recently made its way into mainstream cuisine. Typically, Merguez sausage is red, due to its spice blend, and made with mutton or beef. However, the fragrant and complex spice blend used in Merguez sausage has many other applications outside of sausage. You may also find it in burgers, meatballs, or even on roasted veggies.
Merguez seasoning is a combination of cumin, paprika, coriander, fennel, garlic, onion, cinnamon, nutmeg, and cloves. Its earliest documented use is from the 12th century in a dish called Tajine. This is a Moroccan type of stew, named after the earthenware pot it was cooked in.  Our favorite way to incorporate Merguez seasoning into everyday life is by whipping up some easy lamb burgers on the grill.
For this recipe, all you'll need is 1.5 pounds of ground lamb, one packet of Colorado Spice Merguez Seasoning, one egg, and one tablespoon of plain yogurt. Gently combine all the ingredients in a large mixing bowl. Make sure everything is thoroughly mixed.
Now shape the mixture into four patties, each about a quarter inch thick. You may also want to brush each side of the burger with olive oil to avoid sticking while cooking. Over medium heat, grill each side of the burgers for 4-5 minutes per side. This should result in medium rare burgers. Cook longer if you prefer a well-done burger. The internal temperature of the burgers should each 160 degrees Fahrenheit.  You can also pan fry in the same fashion if you do not have access to a grill.
You can also duplicate this recipe using beef rather than lamb, or a combination of both. We recommend serving your burgers on a toasted burger bun, or inside a pita. Top with caramelized onions and herby yogurt sauce. To make your own herby yogurt sauce simply finely chop green leafy herbs and combine with Greek yogurt. You can make this recipe based on your own preferences, but you can start with one tablespoon of chopped herbs to ½ a cup of yogurt. You can use parsley, cilantro, mint, chives, dill, or a mixture thereof. Add salt and pepper to taste. Serve alongside Merguez seasoned roasted potatoes and enjoy!
Burger Ingredients:
1.5 lbs. ground lamb or beef
1 egg
1 TBS plain yogurt
Olive Oil
Herby Yogurt Sauce Ingredients:
½ cup (or more) of plain yogurt
1TBS (or more) of finely chopped herbs
Salt and Pepper to taste
Leave a comment
Comments will be approved before showing up.