Good Luck Meals To Ring In 2021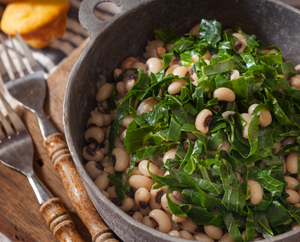 We are so ready to say goodbye to 2020 . . . it's been one heck of a year! While traditional New Years Eve and New Years Day celebrations aren't on the table this year, we want to help you ring in 2021 the right way  . . . with some delicious good-luck food! All around the world, specific foods are eaten for wealth, prosperity, and good fortune in the coming new year. Here are some good-luck foods to help you start 2021 the right way!
Pork 
Eat pork for progress! Pigs relentlessly root ahead as they eat, which is why many cultures around the world eat pork on New Year's Day to symbolize forward moving progress for the coming year. Try our Sicilian Pork Rub Recipe here. It's perfect for the grill, oven, or stovetop! 
Grapes 
In Spain and Mexico, eating 12 grapes at midnight is said to bring you good luck for the 12 months ahead. Spaniards, in particular, are quite superstitious about their "miraculous grapes." So, if you want to partake in the fun, grab yourself some grapes and get ready to chow down as soon as the clock strikes 12. Surprisingly, eating 12 grapes quickly is actually harder than it looks!
Pomegranates 
Not only are pomegranates in season this time of year, but their seeds have a symbolic power, as they come from a land where so many religions come from. Their seeds and bright red color are also associated with life & fertility! You can eat these yummy fruits for good luck or you can partake in the Greek New Years Tradition of smashing pomegranates to the floor as a sign of luck, prosperity, fertility, renewal and regeneration.
Black Eyed Peas, Greens & Corn Bread
The Southern regions of the United States are serious about eating black-eyed peas and leafy greens and corn bread to bring good luck for the new year! The three are meant to be eaten together, as the black-eyed peas are represent pennies, the greens are for dollars, and the cornbread symbolizes gold. It's a tasty way to hopefully increase your wealth and prosperity in 2021!

Fish 
Fish symbolizes abundance around the world, but the way it's eaten is different depending on where you live. Why not start a new tradition with our favorite Easy Salmon Recipe here. It's wonderful with our Seeded Salmon Rub, Trout & Salmon Rub, Citrus Dill Salmon Rub, Molasses BBQ Salmon Glaze, and Sweet Salmon Herb Rub.
Noodles & Rice 
Super long noodles are thought to bring long life, especially if you can eat them whole without breaking! Or, if you want more wealth (and perhaps fertility) then incorporate some rice into your lucky New Year's feast. Even better . . . have both and make our Orange Pepper Stir Fry Recipe with some rice noodles!
Round Cakes 
Finish your New Year's feast with a delicious treat! Round cakes, like bundt cakes, signify the circle of life. New Year's cakes are typically baked with a coin inside. If you get the coin, extra good luck! But if you're not a cake lover, anything round will do — bagels, doughnuts, oranges, grapefruits etc. 
Out With The Old, In With The New
Happy New Year Everyone! We hope that this year is brighter for us all. Send us photos on social media of your good-luck foods and we will be sure to feature you on our story. 
Leave a comment
Comments will be approved before showing up.