Simple Sicilian Pork Rub Recipe: Perfect For The Grill, Oven or Stove Top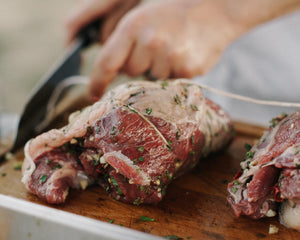 Sicily is often considered the melting pot of Italy. The cuisine is influenced by Greek, Spanish, Arab, North African, and French food culture. This gives this region's cuisine a distinct characteristic and makes it unique from other areas in the Mediterranean. Our Sicilian Pork Rub spice blend is a snapshot of these flavors that can be applied to almost any dish. This recipe demonstrates how well it pairs with pork in this easy to make roast.  This classic recipe requires little prep and is a great to have on hand for a mid-week meal.
Meat is consistently a staple in much of Sicilian cuisine. The origin of Sicilian fondness for meat dishes can be traced back to its French, Norman, and Germanic influences. Classic Sicilian recipes often feature pork, beef, chicken, and an array of seafood. Sicilian spices have an equally diverse source of influence. Our Sicilian Pork Rub in particular, you'll find hints of fennel, coriander, garlic, and mustard seed that have earned this blend its name. These spices are great in dipping oil, pasta sauces, different meats, and vegetables as well.
You can use this blend as a rub for a roast or a marinade for pork chops. You can choose from a bone-in or a boneless roast as well. Regardless of what you chose, when cooking this roast on a grill, you will need to place the roast on a clean roasting rack or on aluminum foil. Set your oven or grill to a very low heat, about 225 degrees Fahrenheit, or simply only turn on one grill burner on the lowest possible setting. When grilling meat, it is important to remember to rotate the roast end to end every hour that it cooks.
Pour the entire contents of your Sicilian Pork Rub package on the roast. If you pour soy sauce over the roast before the spice, the seasoning will stick a little better. Choose the "fatty" side of the roast to season. Remember to lance your roast through the seasoning, penetrating the top most layer of fat. This should be about a half inch deep. Your pork roast will be finished when it has an internal temperature of 145 degrees Fahrenheit, this can take two hours or more. Cover and let it rest for 10-15 minutes before serving.
Leave a comment
Comments will be approved before showing up.