Surprising Health Benefits of Herbs and Spices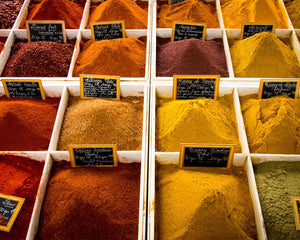 For centuries herbs and spices have been used to add flavor, color, and fragrance to culinary dishes. Amazingly, they also provide powerful antioxidants and have a wide range of other health benefits that you may not have known about.
Anti-Inflammatory Benefits  
Many herbs and spices have been studied for their ability to reduce harmful inflammation in the body, which can be the precursor of many chronic diseases including heart disease and Alzheimer's. For example, turmeric is a particularly potent anti-inflammatory spice that has actually been shown to be more effective in reducing knee pain for people with osteoarthritis than ibuprofen. Garlic, a cooking staple, also contains powerful anti-inflammatory properties and is a natural yet, effective antiviral food that helps fight off colds and viruses. Lastly, black pepper, known as "the king of spices," is not only anti-inflammatory but has shown to have antimicrobial properties like chiles, hot peppers, ginger, and anise seeds.
Antioxidant Benefits 
Antioxidants are molecules that help to protect our cells from damage, aging, environmental toxins, and other stressors. Most antioxidants are derived from plants, which is why herbs and spices are particularly good sources of these free-radical-fighting molecules. Herbs and spices like oregano, sage, peppermint, lemon balm, clove, and cinnamon, all contain a high amount of antioxidants and polyphenols. For example, cloves contain a concentration of antioxidants that is 22 times greater than blueberries- a well known antioxidant superfood. Additionally, oregano is rich in phytochemicals such as thymol and rosmarinic acid and is high in the antioxidant vitamin E. Studies have even shown that oregano has the highest total antioxidant capacity and phenolic content when compared to other antioxidant-rich herbs such as thyme, sage, rosemary, mint, and sweet basil. You can find plenty of oregano in our Italian Herb Seasoning Blend!
Spice Is Life
There are thousands of studies regarding the health benefits of a variety of herbs and spices and research only continues to grow and confirm that the most delicious flavor boosters are also fantastic for our bodies. So, the next time you spice up your meal with some Colorado Spice Seasonings, know that you are doing your taste buds and your overall wellbeing a favor.



Leave a comment
Comments will be approved before showing up.