Simple Roasted Turkey Recipe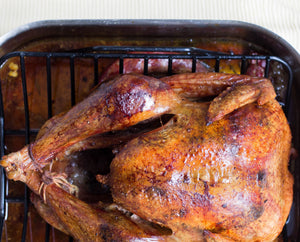 The holidays are around the corner, and if it's your year to bring the turkey, try our no-fuss roasted turkey recipe everyone will love! No basting required for this moist and flavorful turkey recipe.
For this Roast Turkey recipe, you will need:
1 turkey
1 apple
1 lemon
2 onions
carrots
celery
butter or oil
First, preheat your oven to 500 degrees. Next, place turkey on a rack in a roasting pan, breast side up.
Let the turkey warm to room temperature and the skin to dry for 30 minutes. Once dry, coat the skin with butter or oil, you can also place pads of butter under the skin. Cover entire outside of the turkey with whole packet of Colorado Spice Roasted Turkey Rub.
Loosely stuff the turkey by placing a quartered apple, a halved lemon, and a quartered onion in the turkey cavity. We do not recommend pre-stuffing a raw turkey with your bread stuffing before the turkey has been entirely roasted.
Pour 2 cups water or broth into the roasting pan along with your choice of vegetables. We like to use carrots, onions, and celery outside of the turkey.
Shield turkey breast with foil to prevent it from burning and drying out. Simply place the foil over the entire turkey breast, leaving the legs and wings exposed. Cook turkey at 500 degrees for 30 minutes, them remove the foil shield.
Lower oven temperature to 350 degrees and continue to cook the turkey to an internal temperature of 165 degrees. You can generally calculate that a turkey will take about 20 minutes per pound to cook at 350 degrees. The best place to check turkey temperature with a meat thermometer is in the crease between the turkey leg and breast. If you remove the turkey from the oven and pull on a leg, you should see juices running clear when the turkey is done.
Let your turkey rest out of the oven for 10 minutes before carving. Use the juices and veggies in the bottom of the roasting dish to make a delicious gravy. To make gravy you will need:
1-2 cups of pan drippings
1-2 cups of water or turkey broth
1/4th cup all-purpose flower
salt and pepper
Pour drippings from pan into a glass measuring cup. Wait for the mixture to cool and the fat will float to the top and separate. Remove fat by skimming from the top or pouring through a mesh strainer. In a pan over medium heat, combine flour and fat skimmed from the droppings and stir until fully combined. You can also add butter in this step if you wish. Whisk constantly to avoid burning. Add the liquid portion of the dripping slowly and continue whisking. Turn the heat down to a simmer and allow the sauce to thicken to the desired consistency and add salt and pepper to taste. Add water or turkey broth if additional liquid is needed.
Leave a comment
Comments will be approved before showing up.