Irish Beef Crock Pot Stew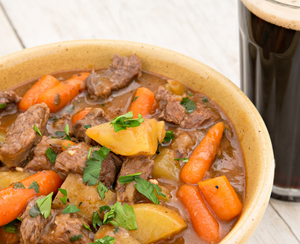 Throw on something green and celebrate the luck of the Irish, with a hearty St. Patrick's Day Irish Beef Crock Pot Stew!
While any Irish person will tell you that lamb is the preferred meat for a good Irish stew, we eat a lot more beef than lamb here in the states. To keep the Irish authenticity alive, we use some Guinness extra stout in this recipe which adds some great malty flavor. Perhaps the best part about this recipe, is that you can throw everything into the crockpot in the morning and and have a "pot o' gold" ready by dinner time! No slaving away in the kitchen required. 
Ingredients:
2 ¾ - 3 lbs well-marbled chunk beef stew meat, cut into 1 1/2-inch chunks
1 bag of baby carrots
3 pounds russet potatoes peeled and cut into 1/2-inch pieces 
1 large onion chopped
3 large garlic cloves 
1 tablespoon Worcestershire sauce 
2 tablespoons tomato paste
1 cup of Guinness extra stout
Directions:
Place meat into crock pot.
Pour entire packet of Colorado Spice Crock Pot Beef Seasoning over meat.
Add in Worcestershire sauce, tomato paste and Guinness.
Mix in vegetables – baby carrots, potatoes, onion, and garlic cloves on top and around stew meat.
Cover and cook on low for 8 hours or high for 5 hours.
Enjoy with some Guinness or Irish drink of your choosing!
"Wishing you a pot o' gold and all the joy your heart can hold."  ~ Unknown
Leave a comment
Comments will be approved before showing up.