Crock Pot Beef Recipe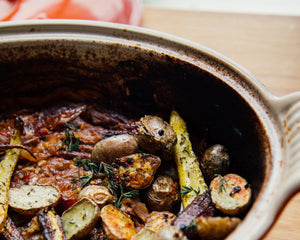 It's crock pot season once again! When the temperature drops, it's time to break out the crock pot along with your favorite "set it and forget it" recipes. If you've got seasonal veggies and a pot roast on hand, Colorado Spice Crock Pot Beef Seasoning is about to become your new go-to for crock pot season.
Crock pot cooking has some great benefits. Setting up a crock pot meal will free up your oven and stove top for other uses during the holidays. It's also a one step process, eliminating dishes, and extremely convenient! You can prep a meal in the morning or at noon with simple ingredients and by the time your day is done, so is your recipe. You can also cook large quantities at once, making it a great choice for meal prep.
To begin, choose your cut of meat. The Crock Pot Seasoning blend can be used with stew meat, pot roast, or short ribs. Short ribs are popular for their flavor and tenderness, they also tend to be a more expensive cut of meat. Pot roasts can be taken from a variety of cuts on a cow and vary in size and thickness. Stew meat can be the most economical choice in beef and can be several different cuts from the cow as well.
For this recipe you'll need a standard size crock pot, about 6 quarts. Place the meat in the crock pot and empty the entire Colorado Spice Crock Pot Beef Seasoning packet over it. Around the meat, place your crock pot veggies. We suggest new potatoes, baby carrots, and onion. If you're using onion, be sure to cut it in half before adding it to the crock pot.
Now you're ready to cover the crock pot and turn it on. If you're using a high setting, your meal should be ready in about 5 hours. If you're using a low setting it can take up to 8 hours to cook. If you have time to spare, the longer you cook on a lower setting, the more subtle the flavor and tender the meat. However, both cook times result in a delicious home cooked meal. You'll know you beef is fully cooked when it reaches an internal temperature of 145 degrees F.
Directions:
Place 2 ¾ to 3 lbs of meat (beef for stew, pot roast, or short ribs) in crock pot.
Pour entire packet of Colorado Spice Crack Pot Beef Seasoning over meat.
Place vegetables – baby carrots, new potatoes, and onion, on top and around stew meat.
Cover and cook on low for 8 hours or high for 5 hours.
Ingredients:
2 ¾ - 3 lbs meat
Baby carrots
New potatoes
Onion
Colorado Spice Crock Pot Beef Seasoning
Leave a comment
Comments will be approved before showing up.