Why Quality Herbs and Spices Matter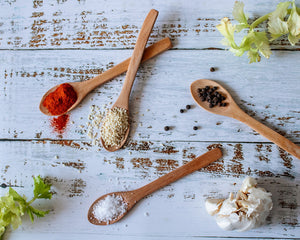 In today's fast-paced, globalized world, it's as if the importance of quality has gone out the window. The cheapest, fastest way to produce anything is seemingly "the best" way to do it. But at Colorado Spice, we beg to differ. We'd rather spend more money and time as a company trying to make the best product to offer our customers than resort to the quick and dirty ways of business because we care about the herbs and spice blends that we create. 
Your Dollar Travels Further
When you use Colorado Spice Blends, your dollar travels further. You see, because our herbs and spices are such high-quality, you can use less of our products than you would with other spices and spice blends. Our herbs and spices are non-GMO, natural, and have a more robust flavor than poor-quality spices. This means that at the end of the day, when you use our quality seasonings, you not only get better tasting, higher quality flavor for your food but you'll get more for your money! Who doesn't love that?
Fake Spices
Many unscrupulous manufacturers use a number of ways to counterfeit the quality of spices in order to reduce the price. The smaller the fraction of spice, the easier it is to falsify. For instance, when a spice is finely ground, this conceals its true composition, making it is almost impossible to determine the quality of raw materials. To distinguish quality spices from cheap spices, you can look at the color, taste and smell of the spice. For instance, a well made paprika is bright in color whereas low quality paprika has a dull dark color. You can also taste the difference, as a spice like paprika should taste sweetish-spicy, not a burning kind of spicy that conventional brands create. 
Cheap For A Reason 
Cheap spices are cheap for a reason. The health regulations created by the American Spice Trade Association are very relaxed for ground spices. From mold, excreta, insects, rat hairs, wire, string and other "foreign matter" is acceptable in pre-ground spices. Yikes! Additionally, most conventional spices at the grocery store have been sitting there for over a year or more, and most likely were sitting in a warehouse for a year or more before even arriving at the grocery store. So by the time you use these spices, they may already be stale. And let's not forget about all of the nasty fillers and additives allowed in these products as well!
Quality Will Prevail Every Time
At the end of the day, herbs and spices are meant to enhance your food, not diminish it. So, just be aware that things aren't always what they seem in the world of spices. Be a careful spice consumer, as you don't want to be sprinkling mold, rat feces and other unappealing things onto your food!
Leave a comment
Comments will be approved before showing up.