Turmeric: The Anti Inflammatory Spice You Need In Your Life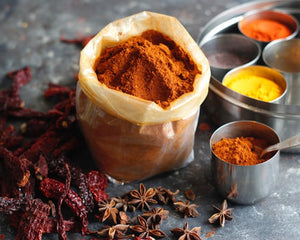 From soups, smoothies, hummus, golden lattes, "health shots", and more, turmeric is found everywhere these days, as it's gaining a lot of traction for its hip superfood qualities. Turmeric is the brightly colored Indian spice that gives curry its fantastic color. For centuries, Indians have been using this spice for medicinal and culinary purposes and more recently the Western world has caught on to the wonderful health benefits of this aromatic powder. 
What Is Turmeric?
Turmeric is a root crop like ginger, whose two key therapeutic components are turmerone and curcumin. It is the curcumin, however, that gives turmeric its anti-inflammatory super-powers. While acute inflammation is vital to our well-being (in fact, we cannot live without it), chronic inflammation is detrimental to our health and can lead to serious illness and disease. 
Curcumin's Superpowers
Curcumin is a powerful anti-inflammatory. In fact, curcumin is so powerful that studies have shown it is as effective as some anti-inflammatory drugs (and doesn't have any harmful side effects!). While the science of how curcumin works in the body is quite complex, essentially, curcumin blocks the NF-kB molecule, which has been linked to inflammation and chronic disease. Additionally, curcumin helps protect the body in two ways against free radicals. First, curcumin is a potent antioxidant, which has the potential to neutralize free radicals (these damage our cells and cause disease). Secondly, curcumin has the potential to boost your body's own production of antioxidant enzymes. Curcumin can also potentially help boost a growth-hormone that helps your brain function properly, improve memory, and possibly reverse brain-related disease. 
The Dynamic Duo
Curcumin is an antioxidant-rich, anti-inflammatory powerhouse, but unfortunately, it is difficult for the body to digest. This is why it is vital to pair curcumin with black pepper, because pepper contains piperine, an alkaloid that enhances the absorption of curcumin by 2000%. You'll find in the Colorado Spice Blends that contain turmeric, we also include black pepper!
Our Quality Turmeric
The turmeric that we use in our seasoning blends is sourced from the land where turmeric is grown best, India! Specifically we source from Alleppey, India and our turmeric contains 5% curcumin. We are adamant about choosing our herbs and spices from the best source of origin because we only believe in selling the highest quality products to our customers. You can find our exceptional turmeric in our Vindaloo Sauce, Coconut Curry Sauce, and our Chang Mai Fish & Fowl Blend!
Leave a comment
Comments will be approved before showing up.