Spice Spotlight: Paprika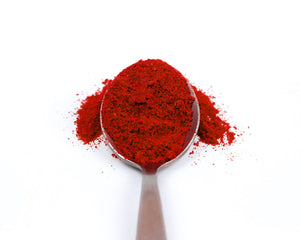 We love our vibrantly colored paprika, that's sweet, and has a lovely mild flavor. But depending on the variety of paprika, the color can range from a bright orange-red to a deep blood red and the flavor can be anything from sweet and mild to bitter and hot. Interestingly, however, super fiery and dull-colored paprika can be an indication of poor quality, so beware, there are many fake spices on the market!
In Its Simplest Form
In its simplest form, paprika is made by grinding sweet pepper pods to create the iconic bright red powder. Originally cultivated in Central Mexico, paprika was brought to Spain in the sixteenth century before moving around the world to Asia, Africa, and other European nations. You can find this ground spice most frequently in Hungarian cuisine, where the bright red spice is used as often as salt or pepper.
Hot, Smoked, & Sweet
Hot paprika is the Hungarian variety of Paprika, that is used as a primary flavoring method, found in dishes like Goulash, a stew made with red meat. The variety adds a peppery, spicy kick to any dish. 
Smoked paprika, often called pimenton or smoked Spanish paprika, is made from peppers that are smoked and dried over oak fires.True Spanish pimenton is made by using traditional techniques and comes from specific regions in Spain. The flavor is sweet and cool like sweet paprika, but has smoky undertones. It can be found in hot varieties as well. Smoked paprika is perfect for grilling or charring!
Sweet paprika is our favorite and is the most common, most versatile variation of paprika. Sweet paprika is the perfect addition to blends like our Tangy Cajun Rub, Sweet Salmon Herb Rub, Roasted Turkey Rub, and more, as the sweet peppery flavor isn't overwhelming, and this special spice gives each seasoning blend a beautiful burst of color. 
Health Benefits 
This bold red spice also offers plenty of health benefits from the valuable nutrients and natural compounds contained in the peppers. Paprika is rich in vitamin A, vitamin B6, and beta-carotene, all of which can help maintain healthy skin. Also, paprika has high levels of potassium, which can help to increase blood flow and reduce blood pressure. Lastly, this spice has a good amount of copper, iron, and vitamin E, which can increase new red blood cell formation.
If you are purchasing paprika on its own, be sure to seek out true paprika that is rich in color, and is the variation you are looking for, as an unexpected hot or smoky flavor can change the entire profile of your dish!
Leave a comment
Comments will be approved before showing up.