Simple Homemade Veggie Pizza Recipe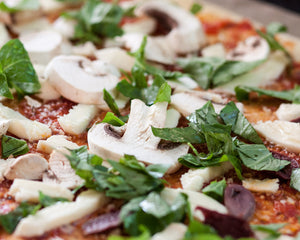 Very few things compare to the wonder of a fresh out-of-the-oven pizza, especially when it's home-made! While we love to support our local pizzerias and encourage you to do the same, having more time at home is a great opportunity to have a more fun in the kitchen. So, get creative and have a pizza night with your family!
First The Dough
1 1/4 c. lukewarm water
1 tbsp. granulated sugar
1 packet (2 1/4 tsp.) active dry yeast
3 c. all-purpose flour
2 tsp. kosher salt
1/4 c. extra-virgin olive oil
Preheat the oven to 450 degrees F (230 degrees C). In a medium bowl, dissolve yeast and sugar in warm water. Let stand until creamy, about 10 minutes. Stir in flour, salt and oil. Beat until smooth. Let rest for 5 minutes. Turn dough out onto a lightly floured surface and pat or roll into a round. Transfer crust to a lightly greased pizza pan or baker's peel dusted with cornmeal. 
Easy Homemade Sauce
1 tsp olive oil
2 cloves garlic, smashed
28 oz can crushed tomatoes
Salt to taste 
Italian Herb Seasoning to taste
In a medium pot, heat olive oil over medium heat. Add garlic and saute until golden, being careful not to burn. Add crushed tomatoes, and as much of our Italian Herb Seasoning and salt as you desire. Stir and reduce heat to low. Cover and let simmer for about 15 - 20 minutes. Remove from heat and add fresh basil.
Toppings
Add some fresh mozzarella and/or parmesan cheese, or opt for veggies only! For vegetables toppings we recommend mushrooms, spinach, peppers, artichoke, olives or whatever other veggies you may like. Sprinkle on some more of our
Italian Herb Seasoning
for the perfect pizza flavor! Bake your pie in a preheated oven (450 degrees) for 15 to 20 minutes, or until golden brown. Let your pizza cool for 5 minutes before eating and enjoy your wonderful creation with your favorite wine!
Leave a comment
Comments will be approved before showing up.