Simple Chimichurri Recipe from Colorado Spice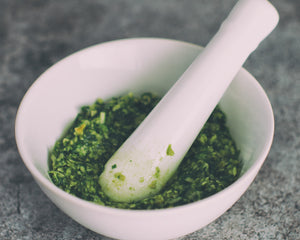 Chimichurri is an uncooked sauce, traditionally consisting of chopped herbs, garlic, oil, and vinegar. It originated in Argentina and was named for the Basque word "tximitxurri" which means "a mixture of several things in no particular order." It is often served as a condiment alongside churrasco which is a grilled beef commonly found in Argentina and Uruguay.
Though chimichurri may have started this way, its uses have greatly expanded. And while recipes for chimichurri are generally very similar, there is a degree of variation between recipes. The Colorado Spice chimichurri consists of dried cilantro, red wine powder, dried parsley, dried garlic, dried jalapeno, dried onion, and crushed red chili pepper. For your convenience, our chimichurri blend is dried, making it shelf stable and ready to rehydrate into a fresh and flavorful sauce whenever you are!
In order to prepare this sauce, either as a marinade or a sauce, start by pouring the contents of the pouch into a small bowl. Stir in one quarter cup of water and allow the ingredients to rehydrate. Next, mix in on third of a cup of olive oil. You can serve the chimichurri immediately or refrigerate and enjoy later! It will keep for a day or two but is best served fresh at room temperature.
Experiment with your chimichurri sauce! It's so easy to make, you can use it to enhance almost any dish. As a sauce, it pairs excellently with grilled food, but not just beef! It's also delicious on chicken, scallops, salmon, and vegetables. Experiment with adding it to your favorite bruschetta recipe or add it to rice, cauliflower rice, or quinoa to instantly upgrade your side dish. Its so versatile and aromatic, you can enjoy it on almost anything. Keep it on hand to turn a quick weeknight meal into a gourmet dinner!
INSTRUCTIONS
Pour the contents of this packet into a small bowl
Stir in 1.4 cup water, mix until ingredients are hydrated.
Stir in 1/3 c olive oil
Serve immediately or refrigerate. If chilled, return to room temperature before serving. Can keep for a day or two. Makes ¾ cup. If using as a marinade, food for 3-5 lbs of protein.
Leave a comment
Comments will be approved before showing up.