Salsa Verde Chicken Tacos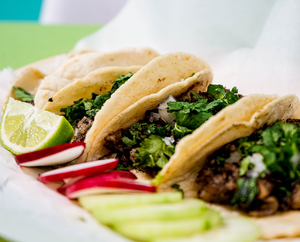 Tacos are an easy weeknight dinner, especially for Taco Tuesday (our favorite night to indulge in some tacos). With just a few ingredients, you can create a delicious meal that the whole family will love. But what differentiates good tacos from great tacos? The seasoning, of course! Luckily, with the Colorado Spice Salsa Verde Canned Seasoning Blend, the perfectly seasoned tacos are easy to achieve. Try this recipe on Taco Tuesday and let us know how your tacos taste via social media @Coloradospice!
MAIN INGREDIENTS
 2 tbsp canola oil

 1 and 1/2 lbs boneless, skinless chicken thighs 

 1 large yellow or white onion, cut into 1/4-inch slices

 8 small soft corn tortillas
TOPPINGS
4-5 ounces crumbled feta cheese
3-4 baby radishes, trimmed and thinly sliced
Ripe avocado chunks
Fresh cilantro leaves
Lime
DIRECTIONS
In a small bowl, season chicken with Colorado Spice Salsa Verde Seasoning Blend.
Then heat canola oil in a large skillet over medium high heat. 
Add onion to pan and sauté  for a few minutes. 
Add chicken, in batches, (with oil as needed) to the skillet in a single layer and cook until golden brown (about 4-5 minutes per side). 
Let chicken cool before dicing into bite-size pieces.
Serve chicken in warmed tortillas, topped with feta, radishes, avocado and cilantro and lime.
Leave a comment
Comments will be approved before showing up.