Proper Cast Iron Care For Newbies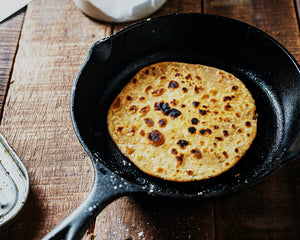 Cast iron skillets have been a beloved culinary tool for centuries. These durable, chemical-free, long-lasting pans also provide iron to your food to keep you healthy and strong. If you are new to owning a cast iron skillet, congratulations! You will love cooking with this pan.
But before you start cooking, you'll want to read all about the ins-and-outs of how to take great care of your new cooking pal. 
Season Your Pan
The "season" on your cast-iron skillet is what makes your iron skillet non-stick. While many new skillets come with a factory seasoning on them, if you bought yours used, you'll want to create a hardier seasoning for the pan by cleaning up the pan and re-seasoning. Read this blog for how to season a cast-iron skillet. 
Skip The Soap!
When it comes to washing your pan, you can save your dish soap for other dishes as soap can strip the oil from your well-seasoned skillet. To make it easier to clean your pan, clean when it is still warm. 
Use warm water, a brush, or scraper to remove any remaining food particles.

 For tough stuck-on bits, scrub with salt and oil, and rinse thoroughly.

After each clean, dry your pan with a clean towel then coat with a thin layer of oil. 

Place the freshly oiled pan over low heat for a brief moment.

Cool the pan then store until next use.
Store It The Right Way
After you have properly cleaned your pan, you'll want to properly store your pan. 
Your cast iron should always be completely dry before you stack it or hang it, as you'll want to avoid any rust! 

Second, we love to use a single paper towel slipped into the skillet for storage — especially if you're stacking the pan with others! This wicks away any moisture and protects the pan's surface.
You're Ready To Cook!
Now that you know how to care for your cast iron, you are ready to cook. Just make sure to use gentle utensils like wood, silicone, and rubber when you are cooking with your cast iron pan. We can't wait to see what you create with your seasoned pan and our seasoning blends! Remember to tag us on social media @Coloradospice and use #coloradospice, so that we can show off your cooking in our stories!
Leave a comment
Comments will be approved before showing up.