Pantry Staples That Take The Stress Out of Cooking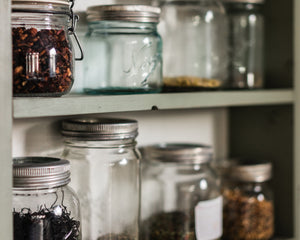 When you take a look at your favorite dishes, the ones you come back to over and over again, what are some reoccurring themes or ingredients? These items should be your pantry staples. In an ideal world, you would be able to open your pantry and have everything you need when asking the question "what do I want for dinner." A well-stocked and organized pantry is like money in the bank. Staples simplify your life and take the stress out of meal planning.
The first step to having the pantry of your dreams is making some space. Springtime means spring cleaning! Time to clear out those old pantry items you never use to make space for your new, highly organized staples. That means the refrigerator and your spice rack too. Leave no prisoners. Start by pulling everything out so you can get a good look at it. Anything you haven't used in a year, it's expired, or just plain mysterious, it has to go.
Now assess the holes in what remains and fill in the blanks. There are several categories to consider, which we have provided here as an outline. However, each pantry is a reflection of the cook and it's up to you to fill in the specifics. If you prefer avocado oil over olive oil when you sauté veggies, keep plenty of that on hand. If you prefer a vegan alternative to a suggested dairy product, always use what you like. The purpose of these suggestions are to trigger your brain to think of what in each category you may need to keep in stock and use on a regular basis.  
Oil and Vinegar
Always keep on hand a good cooking oil! Olive oil is a popular choice for a quick sauté but it's also important to consider the oils you use in baking and vinegars you need when you whip up a quick dressing or deglaze a dish. Consider red wine vinegar, balsamic, or the classic; apple cider vinegar.
Grains and Starches
Long grain rice and a couple boxes of pasta are shelf stable, hearty, and are the basis to many classic dishes.
Condiments
Mayonnaise, Dijon mustard, relish, hot sauce and more! You can't go wrong with a good condiment collection.
Fruits and Vegetables
I'm sure we can all agree that veggies make a dish! Keep your favorites around and restock as fast as you can eat them. Certain veggies that keep a little longer and are always useful, like onions and garlic, can be purchased in larger quantities. Things like dark leafy greens can go in just about anything and a good root vegetable is perfect for roasting.
Dairy Products
If you're a coffee drinker or you bake often, you may want to keep milk or cream on hand. However the real shining star of the dairy category is - you guessed it - butter! And don't forget about the less glamorous but surprisingly essential multi-purpose items like good old Greek yogurt.
Canned Goods and Preserves
Beans are a wonderful fruit and they come in cans. They're shelf stable and always there for you when you you're in the mood for a burrito or a minestrone soup. Other canned goods like tuna can provide a surprising amount of protein and a can of coconut milk can be a helpful addition to keep in stock.
Proteins
Keeping a few frozen chicken breasts in your freezer or pork loin can't hurt! If your primary source of protein is plant based, make sure you have plenty of tofu, seitan, or other alternatives stocked up as well.
Baking Goods
If you're a baker, you'll want to keep a close eye on these staples: flour, yeast, and sugar just to name a few. With just a few ingredients and some know-how you can whip up a rustic loaf or a batch of homemade biscuits in pinch.
Herbs and Spices
Spices are where you can get the most variation out of your staples. You can have four different pasta dishes a week that never get old with the right spice blends! Colorado Spice offers bundles to get you started with a variety. From there you can pick your favorites and order in bulk. Not to mention how easy it is to make an outstanding meal with our signature blends, which are designed for that very purpose. You can also purchase whole spices in our bulk section for those single spices you know you'll return to again and again such as cinnamon or minced garlic.  
Now that you are a pantry staple connoisseur, and you are ready for anything. Last minute dinner parties, family meals, or just the answer to that perpetual question, "what do I want for dinner?" are easy with a well-stocked pantry, fridge, and spice cabinet.
Leave a comment
Comments will be approved before showing up.