One-Pot Recipes For Busy People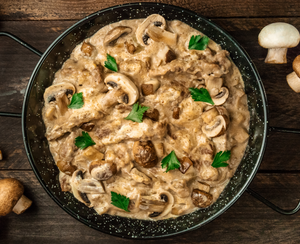 Have insane weeknights that don't leave much room for creating a delicious meal? You've come to the right spot. Our insanely easy one-pot meals are low on mess and ready in under 30 minutes or less! We promise, these recipes prove that a quick dinner doesn't have to be a dull one. 
One-Pan Baked Eggs: 
Perfect for vegetarians, and loaded with protein. This recipe also includes our
Gold n' Garlic blend
that will make your eggs a beautiful golden color and e[gg]xcellent taste!
Ingredients
Instructions
Heat 1 tablespoon of oil in a medium oven-proof fry pan over medium heat. Add sausages and cook until colored and golden. Add in carrot, and zucchini, stirring for 3–4 minutes or until softened. Add spice blend and cook for 1-2 minutes until fragrant.
Add tomatoes, stirring well to combine and bring to a simmer. If needed, add water to loosen the sauce. Stir in beans.
Using the back of a spoon, make 4 indentations in tomato mixture. Gently crack 1 egg into each indentation. Cook for 6–8 minutes or until egg whites have set but yolks are still soft.
Serve the whole dish to the table, dressing with olive oil, a shake of the Gold 'n Garlic and some crusty bread to soak up all the sauce.
One-Pot Salsa Verde Chicken
Upgrade your boring chicken and broccoli meal with this one-pot chicken recipe. It's creamy yet zesty with our Salsa Verde blend. 
Ingredients
1 tbsp olive oil 
1/4 cup butter 
4 small chicken breast fillets 
1/3 cup white wine 
1/2 cup chicken stock
1/2 cup spinach 
Bread to serve
Instructions
Heat the oil and butter in a large non-stick frying pan over high heat until butter is foamy. Season the chicken with 2 tbsps of the Salsa Verde blend and add to the pan. Reduce heat to medium-high. Cook the chicken for 5 minutes each side to until just cooked through. Transfer to a plate. Cover with foil to keep warm.
Add the wine to a pan and cook for 1 minute. Add the cream and stock. Return the chicken to the pan and simmer for 5 minutes or until liquid is reduced. Stir through the spinach until wilted. Season with 1 more tbsps of Salsa Verde blend. Serve with toasted bread. 
One-Pot Chicken Stroganoff 
Fancy gourmet taste that requires much less work than creating the sauce from scratch. With our Stroganoff Sauce, you simply add the packet into your chicken and noodles! 
Ingredients 
1 tbsp chicken stock
1 tbsp all purpose flour 
2 tbsp olive oil 
1 lb chicken breasts, cut into 1 inch pieces 
12 oz cremini mushrooms 
1/2 onion, finely chopped
6 oz uncooked wide egg noodles  
1 packet of Colorado Spice Stroganoff Sauce
1 cup of water
Instructions
Bring a large pot of salted water to a boil. Add the noodles and cook as the label directs, then drain. 
Next, in a small bowl, add all purpose flour and 1 tbsp chicken stock and whisk to combine. Set aside.
In a large Dutch oven or deep bottomed skillet, add 11/2 tbsp of olive oil and heat over medium-high. Add chicken pieces to pan. Cook for 5 minutes or until golden brown and cooked through. Remove to a plate.
Add remaining 1 1/2 tbsp of oil to the pan and add sliced mushrooms and onion. Cook mushrooms about 6-7 minutes, until cooked and slightly golden.
Add chicken back into the pan. Then stir in entire packet of Stroganoff Sauce. Add 1 cup of water. Stir well. Let simmer until sauce is at desired consistency and flavors have blended then mix in pasta. 
One-Pot Ham & Cheese Tortellini 
A cheesy comfort meal that you and the kids will devour. It's super simple and has a touch of extra gourmet flavor with our Herb & Garlic seasoning blend. 
Ingredients 
1 tbsp olive oil 
1/2 lb deli ham, chopped 
1 1/2 lb cheese tortellini 
2 cups frozen peas 
3/ cup low-sodium chicken broth 
1/3 cup heavy cream 1 cup shredded swiss 
1/2 cup freshly grated Parmesan 
2-3 tbsp Colorado Spice Herb & Garlic Pepper Blend
Instructions 
In a large skillet over medium-high heat, heat oil.  Add ham and cook until crispy, stirring occasionally, 5 minutes. Mix in 2 tbsps Herb & Garlic Pepper blend. Add tortellini and frozen peas and stir until coated, then pour over chicken broth. Simmer until tortellini are al dente, 6 minutes.
Add heavy cream, Swiss, and Parmesan and stir until creamy.
Season with a sprinkle or so more of Herb & Garlic Pepper Blend if desired. 
Leave a comment
Comments will be approved before showing up.