Meat Alternatives for Everyday Recipes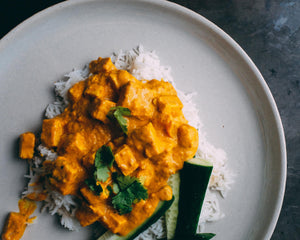 Going vegetarian can be easy and delicious! If you're thinking about a shift in diet or you just want to cut down on your meat consumption, that doesn't mean you have to sacrifice your favorite recipes that would normally include meat products. You can choose from a number of meat alternatives to replace that ingredient and continue enjoying your favorite meals.
1. Mushrooms
Mushrooms make a great meat substitute not only for their texture but for their umami flavor. Umami is the savory taste that is a characteristic of cooked meats. Portabella mushrooms or cremini mushrooms in particular are great substitutes for beef in burgers, sauce, tacos, and more.
2. Eggplant
Great on the grill, eggplant will hold together well with its firm texture. Cut it into 1/2 inch rounds to saute, grill, or bake and you'll have a delicious stand-in for meat in your next recipe. Give it a try in the oven with Colorado Spice Balsamic Chicken Rub or served alongside our Chimichurri Sauce as you would with a steak.
3.Tofu
Tofu is the most common meat substitute and for this reason it tends to get a bad rap. You might think of the spongey, bland block of bean curd from the 70's, but it does not have to be that way. Good tofu is all about how you cook it. Think of it as a blank canvas for you to create your meal with. Tofu soaks up the flavor of whatever its cooked in. So, if you want a meat substitute for your next pot of curry, try our Coconut Curry recipe and simply replace whatever meat you would normally add with tofu. You wont look at tofu the same way again!
4. Seitan
Sometimes known as "wheat meat", seitan is a popular choice for meat alternatives due to it's meaty texture. It's also a good source of protein and iron. Typically with a little browning and a seasoning or sauce, seitan is good to go in any recipe that would normally call for firm meat such as chicken.
5. Lentils
Ever heard of lentil loaf? It's like meatloaf but better! You can substitute one cup of dry green lentils for every pound of ground beef in your favorite meatloaf recipe. Try it with our Hamburger & Steak Rub and our chef's own meatloaf recipe.
6. Beans
Beans provide a lot of important nutrients in our diets, including protein. When removing one protein source, make sure you're still getting enough by finding it elsewhere. Black beans, for example are a key ingredient in many veggie burgers, and veggie meatball recipes. 
7. Tempeh
Tempeh is another soy product, similar to tofu but with a different flavor. This meat replacement is made with fermented soy beans and is often more dense and firm than tofu. If you're not into the "wheat meat" of Seitan, give this one a try instead in similar situations.
8. Jackfruit
Jackfruit is a tropical fruit and a relative of figs. It's known mostly for its texture as a substitute in recipes like pulled pork or pulled chicken. With some Colorado Spice Barbecue Seasoning and an adventurous spirit, you can have pulled pork sandwiches for lunch and still make it a vegetarian meal.
Leave a comment
Comments will be approved before showing up.