Maryland Seafood Feast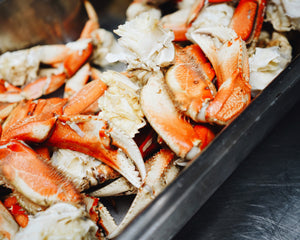 Nothing says Summer quite like a Maryland Crab Feast. If you've never experienced a crab feast, it's a timeless tradition in which you sit elbow to elbow with your neighbor at a long table covered in newsprint while wearing a bib, surrounded by hammers, mallets, and a whole lot of blue crab. Starting in April, the Chesapeake Bay yields enormous amounts of Maryland Blue Crab. Until as late as November, the crabs are harvested and immediately sold at markets all over the country. Crab feasts are traditionally found around the city of Baltimore but you can bring the crab feast to you with a little Colorado Spice Maryland Seafood Seasoning.
Maryland Seafood Seasoning can be used anywhere that you might normally use Old Bay. It pairs wonderfully with corn, potatoes, and all manner of seafood. One way we suggest you enjoy your Maryland Blue Crab and Maryland Seafood Seasoning is with a stuffed mushroom cap. For this recipe you'll need two tablespoons of butter, one tablespoon of finely grated parmesan cheese, eight ounces of finely shredded crab meat, an eighth of a bunch of parsley, one teaspoon of Maryland Seafood Seasoning, one teaspoon of finely chopped onion, one teaspoon of lemon juice, and 24 mushrooms. In just a few simple and easy steps, you'll have the perfect appetizer ready for your next seafood feast.
In a stainless steel or glass bowl, combine melted butter, parmesan cheese, crab meat, finely chopped parsley and onion, lemon juice, and Maryland Seafood Seasoning. Stir all the ingredients thoroughly together until they form a paste. Next, remove the stems from each mushroom and clean the caps. Using a teaspoon, stuff each mushroom cap until the filling is even distributed among all the mushrooms. Now you're ready to bake your stuffed mushrooms at 425 degrees for 2 minutes. Garnish and serve them hot!
Ingredients:
24 mushrooms
2 TBS butter
1 TBS Parmesan cheese
8 oz crab meat
1/8th bunch of parsley
1 TSP Maryland Seafood Seasoning
1 TSP finely chopped onion
1 TSP lemon juice
Directions:
1. Preheat oven to 425 degrees
2. In a bowl, combine melted butter, Parmesan cheese, crab meat, parsley, onion, lemon juice, and Maryland Seafood Seasoning
3. Thoroughly stir until mixture forms a paste
4. Clean mushrooms and remove stems
5. Stuff each cap with mixture
6. Bake for 2 minutes
7. Garnish and serve
Leave a comment
Comments will be approved before showing up.