Make Doing The Dishes More Enjoyable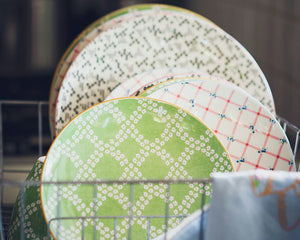 Who actually enjoys scrubbing dirty dishes? It's a messy, time-consuming task that is often the last thing you want to do after enjoying a pleasant meal. Unfortunately, cleaning the dishes is an unavoidable task if you cook, so we have created some ideas for how to make doing the dishes more enjoyable, and dare we even say fun?
Turn It Into a Moment For Self-Care
Yes, we know this sounds strange to use doing the dishes as a moment for self-care but hear us out! While you are doing the dishes, you can "turn off" for a moment to let yourself unwind and simply be in the zone of doing the task at hand: scrubbing dishes. This allows you to practice being present & mindful (something we could all use more of these days). Alternatively, you could put on a podcast, or put on some fun music & scrub away the day, if that sounds more appealing.
Doing the dishes is also a great way to give your hands some self-care! Put some lotion on your hands before putting on your rubber cleaning gloves. When the hot water hits the rubber gloves as you are cleaning, it will heat the lotion leaving your hands extra moisturized when you are finished.
Buy The Right Supplies
Invest in some durable sponges, delicious smelling dish soap, and a well-organized dish drying rack. 
 Steel wool is perfect for tough grime, while regular sponges are great for the other dishes and utensils. To keep your sponges clean, you put them into the dishwasher to easily rid of bacteria!

 A pleasant smelling soap will help mask the smell of any potentially stinky dishes that you may have to tackle. To clean as you go, fill a large bowl with soapy water to soak any cooking tools or utensils.

A well-made drying rack is essential for those without a dishwashing machine, or who want to lessen their dishwasher load. Look for a drying rack that is large enough to hold heavy dishes but doesn't take up a lot of surface area. A well-designed drying rack is one that has a multifunctional design, holds a variety of dishes from full-size pots and pans, bowls, glassware as well as a utensil holder. 
Change Your Perspective
Simply changing your perspective about doing a chore like the dishes can make a world of difference. Instead of thinking "I
have
to do the dishes
"
think
"
I
get
to have a moment to myself by doing the dishes." This change in perspective may just turn you into a happy-go-lucky human dishwasher!
Leave a comment
Comments will be approved before showing up.