How To Season A Cast-Iron Skillet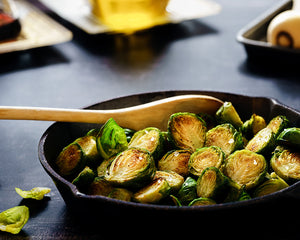 You'll know it's time to re-season you cast iron skillet if food sticks to the surface or if the skillet appears dull or rusted.
If you have recently inherited a cast-iron skillet, bought one used, or haven't seasoned your skillet in a while, we will break down how to easily season your trusty pan. All you need is some soap, a sponge, clean towels, and some vegetable oil!
Instructions: 
You'll want your pan to be bone dry prior to adding oil

Next, spread a thin layer of melted shortening or vegetable oil over the skillet 

1-2 Tbsp of oil is plenty then use a clean cloth to rub the oil around the entire skillet including the outside and bottom. 

Bake the skillet. Place the pan upside down on a middle oven rack at 375°. 
Once your cast iron has cooled in the oven, your newly seasoned pan should be shiny and ready for cooking! To make sure you properly care for your cast iron, read this blog. 
Leave a comment
Comments will be approved before showing up.