How To Get The Most Out Of Your Spices!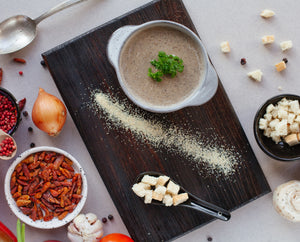 Trying out our Chef's Recipe on the back of each of our Colorado Spice seasoning packets is a great way to introduce new spice blends to your kitchen arsenal. The recipes are specially crafted to accentuate the flavor profile of each blend so that you can have the most positive experience when trying out something new. However, each of our spice blends are capable of much, much more! The Balsamic Chicken Rub, for example, is great on chicken. But have you tried it on roasted brussel sprouts? Get creative with your favorite spice blends and you'll find out that these all natural, hand crafted blends are all-purpose! Here are just a few ideas to get you started!
Compound Butter
A good compound butter is great for more than finishing butter on steak. You can incorporate in any meal that would normally use butter. Corn on the cob, baked potatoes, bread, seafood, pasta, and roasted veggies just to name a few. All you need to do is mix on heaping tablespoon of your favorite spice blend with one stick of softened butter and refrigerate!
Dips
When you're entertaining, a quick dip with minimal ingredients can make a great addition to a veggie tray. With 8 oz of sour cream or cream cheese, blend 2 tablespoons of any spice you prefer, and your dip is served! This recipe works great with our sauce blends as well. A vindaloo curry veggie dip will take minutes to make and tastes gourmet!
Dressing
Infusing a homemade dressing with spice will change the flavor profile and upgrade your salad. Whether you prefer a creamy dressing or a vinaigrette, try it with your favorite Colorado Spice blend for variety and flavor! Start with one tablespoon per cup of salad dressing, add more or less according to your personal taste!
Stir Fry
Stir frys are a great way to use up leftovers in the fridge or meal prep for your coming work week. A one-pan dish is the go-to of many busy weeknight cooks. To blend ingredients and add a little variety and flair to your average stir fry, try a new Colorado Spice blend next time you're whipping up a quick meal!
Grilling
In the summer months, we like to find an excuse to grill just about anything. A great way to add tenderness and flavor to your meal is to marinate your choice of veggies or protein before you grill. Use Colorado Spice blends as a meat rub, a marinade, or even in a brine and you'll be glad you did!
Leave a comment
Comments will be approved before showing up.