Homemade Holiday Stuffing Recipe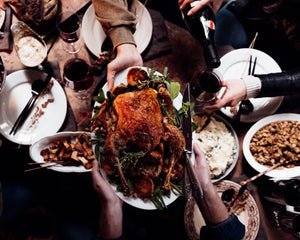 As Thanksgiving is around the corner, it's time to start getting your menu in order! If you've never made your own stuffing before, it's a lot easier than you think. Plus, it's an easy side you can make in advance and simply throw in the oven on the big day. Using your choice of aromatics, meat, add-ins, bread, and Colorado Spice Herbs de Provence you'll never go back to instant stove top stuffing again!
In a large cast iron skillet, heat a blend of butter and oil. Add your chosen aromatics to the pan. We like to use one large diced white onion and 3 chopped leeks. When the onions and leeks begin to sweat, you can add your choice of meat. We chose 1lb of bulk hot Italian sausage. Brown the sausage with the onions and leeks and then add 2 stalks of celery, and 1 quart of mushrooms. You can add more or less mushrooms in this step according to your taste. We prefer lots and lots of mushrooms, especially if you're skipping the meat and making this a vegetarian recipe.
This next step is where you get to be creative! Add in a variety of ingredients according to your preferences. We added ¾ lb. of chopped dried apricots, cranberries, and pecans for flavor and texture. And most importantly, it's time to add the seasoning. Add an entire packet of Colorado Spice Herbs de Provence. It's a flavorful blend of basil, parsley, rosemary, thyme, savory, marjoram, sage, and lavender flowers. Stir and allow the contents to simmer. Finally, it's time to add your choice of bread. Large chunks of torn crusty bread give the stuffing texture but you can also use dry breading you can find at find the store. Avoid any pre-seasoned mixes. Simply look for a bread that will help bind your stuffing together.
Add mushroom or vegetable broth to make sure your stuffing won't dry out in the oven. You can make this in advance the day before and leave it in the refrigerator until you're ready to cook, saving you time and precious counter space on the big holiday. To finish it off, heat your oven to 350 degrees. Bake the stuffing in the cast iron skillet for at least 20 minutes to ensure there is a nice crust and a warm center before serving.
Ingredients:
- Onion
- Leeks
- Mushrooms
- Sausage
- Oil
- Butter
- Pecans
- Celery
- Vegetable or Mushroom stock
- Crusty Bread or Breading Mix
- Colorado Spice Herbs de Provence
Leave a comment
Comments will be approved before showing up.