Give Your Leftovers A Makeover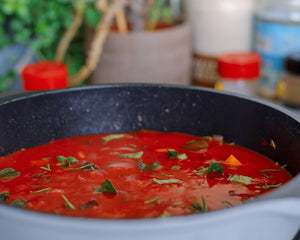 Some foods just taste better the next day. Cold pizza anyone? Delicious! But other leftovers can be boring to eat. Since we do not condone food waste, we encourage you to eat your leftovers but spruce them up with some new flavor. If you have leftover veggies, pasta, chicken breast or anything that could use a little more pizzazz, we have some ideas for you to try the next time you want to make your leftovers a little more exciting. 
Leftover roasted chicken? Take some Adobado Fajita Blend, lime juice, and a dark beer and braise your chicken in the pan. In about 15 minutes or so, you will have amazingly tender meat for latin-inspired salad! Add your chicken to some delicious fresh greens, tomatoes, black beans, canned corn and some tortilla strips. Make a simple lime vinaigrette with olive oil, lime, honey, & some of that Adobado Fajita Blend and you have one tasty meal in front of you! 
Make an eggy, melty frittata with leftover sautéed veggies and pasta! Simply chop up your leftovers and whisk your ingredients together with eggs and cream. Fold the mixture into your cast iron skillet, crumble on some cheese like feta, and bake in the oven at 350 for around 20 minutes! Sprinkle some Herb & Garlic Pepper Rub and you have an amazing new meal from your leftovers!
Make some tacos out of the blue. Meat, fish, veggies, fruit . . . you name it, almost anything can go in a corn or flour taco tortilla! Dice up an onion in an oiled skillet, throw in whatever leftovers you have and let your imagination run wild. You can make an asian infused taco by adding some freshly squeezed orange to your sautéed leftovers & sprinkling in some of our Orange Pepper Stir Fry Blend. Or, you can't go wrong with our always delicious traditional Taco Seasoning Blend. Have some component of fat, salt, seasoning, and acid in your mix and you will surely end up with some delicious unexpected tacos!
Making a soup is one of the easiest ways to turn into something new and yummy to use those leftovers. Any kind of animal protein, and veggies paired with some canned beans, quinoa or rice, vegetable broth, onion, and some spices makes for any easy, hardy, comforting meal that doesn't take long at all to make. Soup is also very versatile. Want a southern soup? Try our Cajun seasoning. Make a hearty stew with some left over steak and potatoes and our fantastic Organic Steak Rub.  
Leave a comment
Comments will be approved before showing up.