Five Things You Should Have In That Kitchen "Junk Drawer"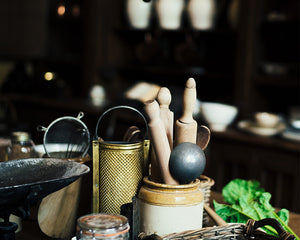 You know the drawer. The one that's filled with kitchen "gadgets and gizmos of plenty" that you hardly use. Well, we have some sharp tools that you'll want to make room for in your kitchen  "junk drawer." We hope that these tools are already a part of your culinary repertoire, but if they aren't here's a brief breakdown for why you should consider getting them. 
1). Microplane. If you are still using your cheese grater to grate your garlic and ginger, it's time for you to invest in a microplane. A microplane makes grating finely very simple. From zesting your citrus to attain perfect snow parmesan, you seriously won't regret buying this kitchen tool. Keep your coarse grater for the bigger stuff like carrots, cheese,  and onions. Get ready to witness the micro magic of the microplane. 
2). Shears. A great pair of kitchen shears are amazing to deconstruct chicken, cut through pizza, cut basil stems, green onions, and so on. Don't opt for a random pair of scissors! A sharp pair of shears makes cutting easy as 1, 2, 3. 
3). Mandoline. You may be extremely skilled with your chef's knife and if you are, good for you! But nothing out performs the paper-thin slice of a mandoline. From slicing, julienning, and shredding even the toughest vegetables, a well-crafted Japanese mandoline is able to take on anything. As a word about your safety, please handle your mandoline with extreme caution as this tool is super sharp! 
4). Garlic press. Not only does a garlic press make for an easy way to mince your garlic, but the press actually makes the garlic pieces sharper than your own chopping. The benefit of sharper pieces is enhanced flavor! Don't spend all the extra time trying to perfectly mince your garlic clove. It's time to give that job to the garlic press. 
5).  Corn on the cob holders. Yes, we know it's a bit of a silly tool to be talking about but have you ever burnt your hands on a piping hot ear of corn? It hurts like heck! Corn on the cob holders truly make a difference when it comes to eating your corn on the cob the right way. Be sure to buy interlocking corn holders for storage purposes in order to avoid poking yourself when you grab for a holder in the drawer. 
So, there you have it. We hope that if you don't already have these sharp tools that you go out and get them, as we wouldn't be writing about them if they weren't worth the investment. We are here to help you have the best cooking experience as possible and the right tools can certainly help you do that!
Leave a comment
Comments will be approved before showing up.