Savory Everything Bagel Rugelach Recipe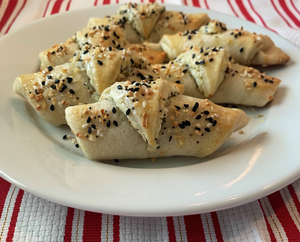 The holidays are the perfect time to bake delicious sweet treats. But what if you prefer savory baked goods? No fear! We have the perfect savory baked treat that you will enjoy making & eating this holiday season. Introducing Everything Bagel Rugelach. Rugelach is a popular Jewish pastry that dates back to the Hungarian kifli, Austrian kipfel and Polish rogal. It's a crescent-shaped pastry that's typically filled with fruit jams, poppy seed paste or nuts. So, in honor of Hanukkah beginning and National Pastry Day (December 9th), we naturally had to create a rugelach recipe turned savory, using our Everything Blend Canned Seasoning. 
Ingredients: 
1 cup unsalted butter, at room temperature

20 ounces full-fat cream cheese, at room temperature, divided

2 tablespoons sugar

1/4 teaspoon salt

2 cups unbleached all-purpose flour

1 tablespoon lemon zest

1 tablespoon fresh chopped dill

pinch sea salt

1 Can of Colorado Spice Everything Canned Seasoning Blend

1 egg, beaten (for glaze)
Instructions: 
1). In a stand mixer,  beat the butter and 8 ounces of the cream cheese until smooth. Then add in sugar and salt. Mix thoroughly
2). Next add the flour and mix until the dough comes together. Divide the dough into four pieces, wrap in saran wrap and place in the fridge for at least 1 hour.
3). Preheat the oven to 375 degrees F as you make the filling. Combine the remaining 12 ounces of cream cheese with lemon zest, dill and sea salt. Mix thoroughly.
4). Next, roll each piece of dough into a large circle about and use an 8 inch round to cut the dough into perfect circles. 
5). Spread 1/4 of the cream cheese mixture onto each circle, leaving 1/4 inch border. Then sprinkle each circle generously with the Everything Blend. 
6). Slice the dough into 8 even triangles with a pizza cutter. Starting from the outside border, rolling inward. 
7). On a parchment paper lined baking sheet, place rugelach point down. 
8). Lastly, brush each rugelach with a beaten egg and top with extra Everything Blend before baking for 16-18 minutes. 
9). Cool on wire rack before enjoying!
Get The Whole Family Involved
Rugelach is fun to make and can be a great activity to get the little ones involved in, especially the rolling of the dough, spreading the filling, and rolling the slices into beautiful crescents. We hope you enjoy this delightful, delicate rugelach recipe and please share your pictures with us on social media. Happy holidays to all!
Leave a comment
Comments will be approved before showing up.