Corn 5 Ways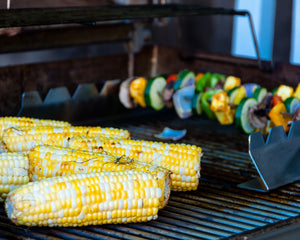 Summer's not over yet! If you have corn growing in your garden it is time to harvest! Enjoy this seasonal treat before the summer heat is behind us. Here are 5 ways you can enjoy this summer classic.
Mexican Street Corn
Also known as Elotes, is grilled corn on the cob, slathered in sauce, cheese, herbs, and spices! There is no delicate way to enjoy this meal but it's well worth the mess. There are many flavor and spice combinations you can make to enjoy Elotes, but it is normally served on a skewer with mayo, cotija cheese, chili powder, and cilantro. Plus, it's easy to make - just follow these three steps!
Char corn on the grill
Brush mayo over corn
Coat corn with spices, cheese, cilantro, ect.
Corn Salad
You can enjoy a corn salad any time of year with frozen or canned corn but it's definitely served best with fresh corn right off the cob. Add tomatoes, peppers, scallions, herbs, cheese, and spices to make this salad your own! Serve it over a bed of greens or enjoy it on its own. It's best served with a homemade lime vinaigrette, made even more flavorful when you add a tablespoon of Colorado Spice Zesty Chili Lime Seasoning.
Use fresh, frozen, or canned corn in a pinch
Add fresh vegetables, cheese, herbs and spices
Use a creamy dressing or a vinaigrette
Boiled Corn
Sometimes simple is best! If you'd like to serve a straight up batch of boiled corn on the cob along with your summer meal it's easy to do and only takes minutes to prepare. All you need to do is make sure your water is salted, boiling, and you only leave the corn in the water long enough to cook! Over boiled corn can be starchy and mushy.
In a large pot, boil heavily salted water
Add husked and cleaned corn and boil for 5 minutes
Serve with compound butter made with your favorite Colorado Spice blend, like Sweet Mesquite Sriracha!
Grilled Corn
Grilled Corn is by far the most popular method to cook corn on the cob in the summer months. The grill adds char and that smokey flavor that pairs well with the sweetness of the corn. You can grill the corn directly on the grill or utilize the husks to hold in seasoning and flavor while the corn cooks. That's our preferred method and it can be done these few simple steps.
Shuck corn leaving the husks attached at the very bottom and remove silk from the corn.
Cover corn in butter and seasoning
Cover corn with husk again
Grill on high heat for 10 minutes
Corn Salsa
Salsa isn't just for tomatoes and peppers! Make a corn salsa with raw corn for a sweet crunchy bite! You can control the heat by adding more or less minced peppers and seasoning. Try it with Adobado Fajita Blend or our classic Taco Seasoning!
Remove fresh, raw corn from the cob by laying corn across cutting board and using a sharp knife, cut strips of corn away.
In a mixing bowl, add finely diced jalapenos, red onion, cilantro, avocado, and lime juice. Season liberally to add more heat.
Mix well and serve with chips, as a topper on hot dogs, on nachos ect.
Leave a comment
Comments will be approved before showing up.