Cooking As a Natural Stress Reliever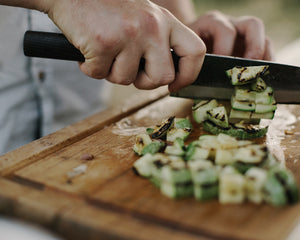 Yes, we're a little biased because we are a spice company . . . but we truly believe that cooking can be therapeutic. In fact, we believe that cooking shouldn't have to be a chore, and instead, it should be a pleasurable experience, something you can look forward to at the end of a long day. Don't just take our word for it.  Studies have actually confirmed that cooking can be a great way to destress!
Test Your Creativity
Think of cooking like this. You are an artist and your kitchen is a blank canvas. Your ingredients and culinary tools are your paints, pastels, and pencils of which you are going to use to make a masterpiece. You can make whatever masterpiece that you would like to, and all you have to do is just relax and trust the process (and drink some wine of course!). In fact, studies show that when we exercise our creativity, we reduce cortisol levels (our stress hormone) and instead increase our feel good hormones. Your kitchen is yours, which means even if you are following a recipe, you should be open to experimenting with different foods and flavors. Let your inner artist run wild!
Aroma Therapy
Spice and aromatic ingredients have also shown to reduce stress levels through aromatherapy, which is the use of aromatic materials to improve psychological or physical well-being. Ingredients with strong aromas like garlic, and onions, various herbs and spices can make the whole house smell like a big, warm, comforting hug, which can instantly calm your senses. 
Cook Away The Day 
Studies show that people feel more relaxed and satisfied when they take time to finish small creative projects every day. We all have work to do that we simply do not like to do and if our entire day is full of things that don't bring us joy, we will inevitably feel less happy. Cooking can be that creative project for you that brings you a burst of happiness every single day, as each new meal is a project of its own that you work on until the end. When you finish, you get to eat and enjoy all of your hard work!
Make It A Ritual
Just as you make emails and phone calls an everyday ritual, make cooking a ritual as well.  Especially when you play with your ingredients, try different herbs and spices, try various recipes, invent your own recipes, etc. you will turn cooking into something you do everyday-  a ritual that hopefully you learn to love if you don't already. We recommend you pick out a series of recipes to try each day of the week, so that after an exhausting workday, you can have something creative to look forward to making that will ultimately make you happy as a clam when you dig into your delicious home-cooked meal!
Leave a comment
Comments will be approved before showing up.