Brilliant Spring Cleaning Hacks For Your Kitchen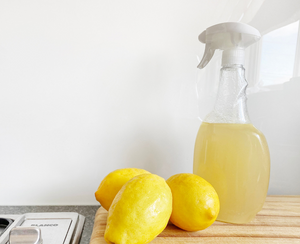 Spring has sprung, which means it's the perfect time to freshen up your kitchen with some spring cleaning! These tips and tricks will help to streamline the process and leave you with more time to enjoy using your refreshed cooking space. 
Disinfect your sponge in the microwave
Soak your sponge in water and put in the microwave on high for 2 minutes. Voilà: 99% of bacteria, gone.
Sanitize with white vinegar
In an old spray bottle, mix 1 part white vinegar with 1 part water. This makes for an excellent all-purpose disinfectant spray to wipe down countertops, doorknobs, faucet handles and more!
Switch from paper towel to microfiber cloths
Save money and the environment by switching to eco-friendly microfiber clothes. Use these with your DIY disinfectant spray to remove dirt, dust, grease, oil, and grime, from any hard surface. Throw these cloths into the washer when finished!
Freshen up your garbage disposal with ice cubes
Fill an ice cube tray with water and the peel of any citrus fruit (place a piece of peel into each cube). Freeze overnight and toss a couple ice cubes down the drain while the disposal is on. This will clean the unit and help get rid of any foul smell!
Revamp your dishwasher with baking soda & vinegar
Put one cup of white vinegar into a microwave-safe bowl. Slightly warm in the microwave for 15 to 20 seconds. Take the bowl out of the microwave and stir in two tablespoons of baking soda. Pour the mixture into the drain at the bottom of the dishwasher. Let it sit for 10 to 15 minutes. Then run it for a normal cycle!
Clean your microwave with lemon
Cut a lemon into halves, squeeze the juice into 1/2 cup of water and drop the rinds into the mixture. Microwave the mixture for three minutes. Then let it sit in the microwave for an additional five minutes. Do not open the door, as the trapped steam will help loosen grime. After the five minutes is up, easily wipe down the microwave!
Clean stainless steel sinks with baking soda
Simply wet your sink and faucet, sprinkle baking soda, and scrub with a sponge. If you're in need of a more robust scrubbing powder, add salt to the baking soda. Rinse for a clean sink!
Clean your grill with an onion
Get your grill ready for the warmer weather ahead. Start by heating it up and spraying some white vinegar onto the grates.  Next, scrub the area firmly using half of an onion. The acid from the onion will rid your grill of any leftover remnants!
Use cream of tartar to clean toasters and tea kettles
Combine 1 tsp of cream of tartar with just enough water to make a paste. Rub the solution onto your stainless steel appliances and wipe away to reveal a shiny surface. 
Organize your fridge/ cupboard with rotating turntables
Start by discarding old condiments and spices. Then use rotating turntables and Lazy Susans to organize your pantries and refrigerator. It's a great organization hack!
Leave a comment
Comments will be approved before showing up.