Blackened Redfish Recipe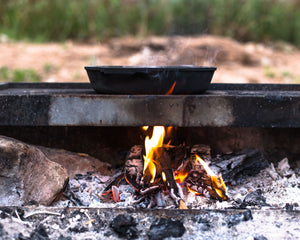 Blackening is a cooking technique that was popularized by Chef Paul Prudhomme. Often associated with Cajun cuisine, blackening is the process of dredging a fillet of red fish in a mixture of spices and then cooked in a very hot cast iron skillet. This process sears the crust of the fish, which gives it a signature black and brown crust. The key difference between blackened and charred is in the spice. Blackening was developed in order to replicate the flavor of charring on a flame grill in the 1980's. Since that time, it has become a very separate and popular technique.
There is no standard for blackening spice, meaning each blend has its own variance. Colorado Spice Blackening Spice is its own signature blend that'll you just have to taste to find out about! Most blackening spices include thyme, oregano, paprika, onion powder, garlic powder, salt, and pepper. This method can be applied to other types of fish or proteins such as steak or chicken. However, the traditional, tried and true recipe of blackened red fish is the best place to start.
First, coat your fillets in melted butter and set aside. Next, pour your Colorado Spice Blackening Spice into a shallow dish or pie plate that is large enough for your redfish fillets and cover the bottom of the dish. Next, dredge each side of the fillets in through the seasoning so that the fillets are substantially coated in the Blackening Spice.
Traditional blackening is done in a cast iron skillet. The pan should be heated until it is very, very hot. One safe way to test a skillet to see if it is heated enough is by dropping water in it. When the pan is hot enough, the water droplets should bounce away from the surface of the pan and evaporate quickly. When this occurs, this is the time to cook your fillet.
It might be a good idea to turn on a fan and open some windows for this next part. When you drop the fillet in the pan, steam should arise immediately from the bottom of the fish. Cook until the fish appears charred, about 2 minutes. Turn the fillets over and continue cooking until the fish is cooked through. Fish should have an internal temperature of 145 degrees Fahrenheit. 
Serve your Blackened Redfish warm with melted butter. This dish pairs well with Cajun rice, okra, and cornbread. If you want to try it out, don't forget to let us know how your blackening experience went! Experiment with other proteins or even veggies, our blackening spice is a versatile blend and we love seeing our spices in action.
Blackened Redfish
Pour Blackening Spice into a pie plate or shallow dish.
Dredge both sides of two fillets through the seasoning.
Drop seasoned Redfish filets into a very, very hot cast iron skillet. (water dropped into the skillet should bounce away and evaporate immediately)
Steam should immediately rise from the bottom of the filet. Turn filet and cook either side until done.
Serve with Cajun rice, okra, and cornbread
Leave a comment
Comments will be approved before showing up.