Barbecue Spare Ribs Recipe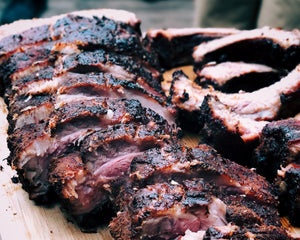 Barbecue is a staple of American culture. It's so ingrained that there are regional differences in barbecue styles. In the South, for instance you'll find that a barbecue seasoning and sauce that is distinctly different than the flavors that have evolved in the Midwest. No two barbecue seasonings are exactly alike, but they're all encompassed in this American tradition. Colorado Spice Barbecue Seasoning is a mixture of chilies, salt, paprika, garlic, onion, hickory smoke, and other spices that make it a unique spice blend, perfect for your next sauce or marinade.
For a traditional barbecue spare rib dish, follow our recipe and you'll be ready for your next summer feast. Begin with one packet of Colorado Spice Barbecue Seasoning and two to three pounds of beef or pork spare ribs. Rub the entire packet of seasoning thoroughly into the ribs and place them in a glass baking dish. Roast uncovered at 225 degrees for four hours. Baste the ribs occasionally, using the drippings from the bottom of the pan.
Once the ribs are ready, set drippings from the bottom of the pan aside for a homemade barbecue sauce. Pour the drippings through a wire mesh strainer. Now add two tablespoons of corn starch and one cup of cold water, or better yet, beer. Bring the entire mixture to a boil to thicken. Slather the mixture over your ribs and you're ready to serve along with some grilled corn and a green salad!
Ingredients:
2-3 lbs. beef or pork spare ribs
1 packet Colorado Spice Barbecue Seasoning
2 TBS corn starch
1 cup cold water or beer
Directions:
Preheat oven to 225degrees
Rub seasoning packet into ribs
Bake in a glass dish for 4 hours
Baste ribs occasionally with pan juices
Once ribs are cooked, pour pan juice drippings through mesh strainer into a small pot
Mix cornstarch with drippings and one cup of beer or cold water
Bring entire mixture to a boil
Slather sauce over ribs and serve with corn and green salad
Leave a comment
Comments will be approved before showing up.