Grilled Hickory Chicken Recipe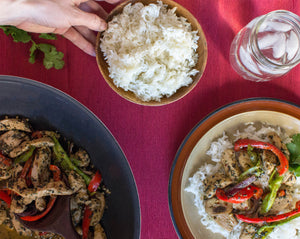 Summer is here and that means it's time to combine our three favorite things – friends, sunshine, and outdoor cooking! And this grilling season we have the perfect recipe for your next summer cookout. Grilled Hickory Chicken is a delicious and quick dish that everyone is sure to love. Make sure you make a little extra, it goes fast!
All you need for this recipe are six bone-in chicken breasts, Colorado Spice Hickory Chicken Rub, and your favorite barbecue sauce.
Start by heating up the grill to a medium temperature. Next, sprinkle the Hickory Chicken Rub over the entire chicken breast on both sides and place it bone down on the hot grill. Cover the grill for six to eight minutes and allow the chicken breasts to cook.
After six to eight minutes, turn the chicken breasts at a 45 degree angle and continue to grill. This will give you that classic diamond pattern grill marks achieved by professional chefs. Close the lid and continue to allow the chicken to cook for another six to eight minutes. Now, with your favorite barbecue sauce, paint the chicken breasts with a basting brush. The chicken should be very firm to the touch.
Cover and grill for another two to four minutes and your meal will be ready to serve! The chicken should reach an internal temperature of 165 degrees when fully cooked. We love our Grilled Hickory Chicken served with watermelon and corn on the cob, but it goes great with any summertime classic!
This quick recipe gives you more time with your friends in the sun and less time in the kitchen. If you like the recipe and decide to give it a go, reach out and let us know how your summertime feast goes, we'd love to hear about it.
Prep instructions:
Using 6 bone-in breasts, sprinkle the Hickory Chicken Rub over the entire portion and place bone down on hot grill and cover.
Turn the breasts at 45 degree angle at 6-8 minutes and continue to grill. This will create the diamond pattern of famous restaurants.
Grill another 6-8 minutes. Paint the chicken breasts-when very firm to the touch- with your favorite BBQ sauce and close the grill for another 2-4 minutes.
Serve with corn on the cob and watermelon for a summertime feast.
Leave a comment
Comments will be approved before showing up.