3-Ingredient Veggie Dips With Our 3 New Spice Blends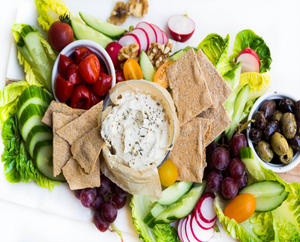 There's nothing quite like a yummy, easy to-make (and eat!) veggie dip. Raw veggies by themselves . . . are a bit boring. BUT, raw veggies paired with a delicious dip? Not boring! Because Colorado Spice is all about providing flavor in a convenient manner, we have created 3, 3-Ingredient, easy dip recipes for each of our 3 New Canned Seasoning Blends: Everything Blend, Salsa Verde, and Gold 'n Garlic. Yes, we know, it's a lot of 3's but stick with us! These dips each have their own unique flavor but all pair perfectly with veggies, pita, crackers, chicken tenders/strips, tofu bites, falafel and SO MUCH MORE!
3 Ingredient Salsa Verde Dip
This dip is perfect for those who are looking for some zesty flavor! Plus, with Greek yogurt as the base, you'll receive a healthy dose of probiotics and protein in each bite.
Ingredients
4 Tbsps Colorado Spice's Salsa Verde Canned Seasoning Blend
2 Cups Greek Yogurt
Juice of 1 Lime
* If you want to be fancy, add chopped cilantro to this dip. Yes, we said our dips only had 3 ingredients BUT this is an optional step!
Directions
1). Mix ingredients together and start dippin'!
3 Ingredient Everything Blend Dip
If you are a sucker for a good everything bagel with cream cheese, then you will love this simple dip. This dip truly pairs with everything you can imagine!
Ingredients
1 Brick of Softened Cream Cheese
1 Cup of Sour Cream
4 Tbsps Colorado Spice's Everything Canned Seasoning Blend
Directions
1). Mix the ingredients together with a mixer, and start dippin'!
3 Ingredient Gold 'n Garlic Dip
This is the most bold of the three dips in color and taste! The tahini adds a nutty yet bitter taste, the lemon adds some zing, and the turmeric & red pepper flakes add the perfect amount of color and heat. 
Ingredients
½ Cup Tahini
¼ Cup Lemon Juice
⅓ Cup Warm Water
4 Tbsps Colorado Spice's Gold 'n Garlic Canned Seasoning Blend
Directions
1). Mix the ingredients together in a blender or food processor, and then, start dippin'!
Make Your Own Dip!
Most of us need a little help getting more vegetables into our diet as it is, which is why we think veggie dips are just the best! Of course, our 3 veggie dip recipes are just a few of the many veggie dip ideas that you can create using our Canned Seasoning Blends. We hope that you try our recipes and/or make your own veggie dip recipes. Just be sure to share your ideas with us on social media!
Leave a comment
Comments will be approved before showing up.