20 Minute Roasted Shrimp and Orzo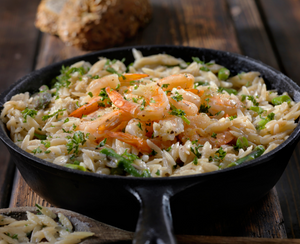 With spring here and summer on the way, it's time to add some lighter recipes into the mix. We love this Roasted Shrimp and Orzo recipe, as it's light yet filling and is ready ready in under 20 minutes!
You can also choose from a variety of our seasoning blends to flavor this meal. We recommend our Citrus Dill Blend (for sweeter flavor), our Herb and Garlic Pepper Blend, or our Gold & Garlic Blend to add in some beautiful golden turmeric color! Pair with a zesty Sauvignon Blanc or another white wine of your choice.
Ingredients 
Olive oil 
Salt & pepper
2-4 tbsps Citrus Dill Salmon Rub, Herb & Garlic Pepper Rub or Gold n' Garlic Canned Seasoning Blend
3/4 pound orzo pasta 
1/2 cup lemon juice (3 lemons) 
2 pounds shrimp, peeled and deveined 
1 hothouse cucumber, unpeeled, seeded, and medium-diced
1/2 cup red onion, diced 
3/4 pound feta cheese, large diced
1 cup chopped flat-leaf parsley 
Directions 
Step 1: Preheat the oven to 400 degrees F
Step 2: Fill a large pot with water and add 1 tbsp. of salt and a splash of oil. Add in orzo and simmer for 9 to 11 minutes. Stir occasionally until it's cooked al dente. Drain and pour into a large bowl. 
Step 3: Whisk together lemon juice, 1/2 cup olive oil and seasoning blend of your choosing. Pour mixture over the hot pasta and stir well. 
Step 4: Next, place the shrimp on a sheet pan, drizzle with olive oil and sprinkle with salt & pepper. Roast for 5-6 minutes. Be careful not to overcook!
Step 5: Add shrimp to orzo, then mix in onion, parsley and cucumber. Toss well. Add in feta last and stir carefully. Set aside for at least 1 hour to let flavors blend. Bring back to room temp before serving, and add in more seasoning if needed. Serves 6.
Leave a comment
Comments will be approved before showing up.