12 Holiday Cooking Hacks You Wish You Knew Sooner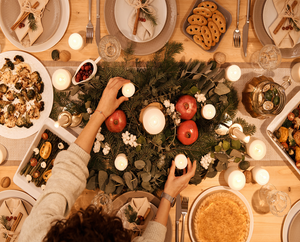 The holiday season is here and we know many of you will be spending long hours in the kitchen making delicious food for you and your loved ones! While holiday cooking should be a joyous experience, it's also a big task to cook plenty of food, that's delicious, in a timely manner. But don't let stress be on the menu this year. To help you stay a little more cool, calm and collected in the kitchen, we have some holiday cooking hacks to gift you that you'll wish you knew sooner. 
Hack #1: Utilize Chicken Stock For Overcooked Turkey
Accidentally overcooking the turkey . . . it happens to the best of us! You left the bird in the oven for too long, and as a result, you're left with some dry meat. Simply pour some chicken stock over the bird to revive the moisture. 
Hack #2: Prevent a Dry Bird With a Butter-Soaked Cheesecloth 
Of course, to prevent a dry turkey from occurring in the first place, you can soak some cheesecloth in a butter to put on the turkey while is roasts. It's a great trick to keep the bird moist. Don't forget to brine your bird too with your favorite Colorado Spice Brine.
Hack #3: Add Baking Powder For Fluffy Mashed Potatoes
We know you want to 'wow' your family with some heavenly mashed potatoes. Add a small pinch of baking powder when making your mashed potatoes, as it will create a divine result.
Hack #4: Use a Crock Pot To Make a Large Pot of Hot Cocoa
When dealing with a large crowd, utilize the power of the crock pot to fix everyone a hot cup of deliciousness. You can also use your crock pot to make holiday libations like mulled wine or hot toddies. 
Hack #5: Use a Cheese Grater For Frozen Butter 
So, you forgot to thaw the butter for your holiday baking? No worries, just get out your cheese grater and shred the desired amount of butter for your recipe. 
Hack #6: Rally Some Vegetable Peelers 
If you're the head chef, get your family to help you out by washing, scrubbing and peeling those potatoes, parsnips and carrots. You don't need to be a 'one-man/woman band' if you don't have to be. 
Hack #7: Spruce Up The Gravy 
Try making the gravy richer and festive by stirring in some cranberry sauce or a splash of port. It will instantly upgrade the flavor!
Hack #8: Use Zip Lock Baggies To Prep Ingredients 
For stuffing and casseroles, you can chop veggies ahead of time and store them in zip lock baggies. This will save you time and you can save yourself from washing a few more dishes.
Hack #9: Freeze Your Pie Crusts 
Freeze your pie crusts to prevent the pie from baking with a soggy bottom!
Hack 10: Prevent Burnt Holiday Cookies 
While you can't recover burnt cookies, you can easily prevent them. Test 1 cookie in the oven and see how long it takes to bake. That you way can put the rest of the batch in knowing just how long they need to bake.
Hack 11:To Make Room In The Fridge, Use Your Garage
For things like condiments, beverages and other items that don't need to be in your main fridge, keep them in your garage! Here in Colorado, we're lucky enough to use the chill of the outdoors to keep items cool when the fridge is overcrowded. If you don't live in a cool environment, use a cooler and ice to store extra items when you're fridge is overcrowded.
Hack 12: Use Oven To Table Cookware
 Save yourself some time by using oven-to-table cookware like stoneware, enamelware or vintage Pyrex. It's a wonderful two-in-one trick!
Happy Cooking & Happy Holidays
From all of us here at Colorado Spice, we want to say happy holidays! We hope you and your loved ones are able to celebrate safely together. May your cooking go smoothly, may these cooking hack help prevent a holiday meltdown, and most of all, may you enjoy delicious eats with your favorite people. 
Leave a comment
Comments will be approved before showing up.