11 Grilling Tips You Need To Know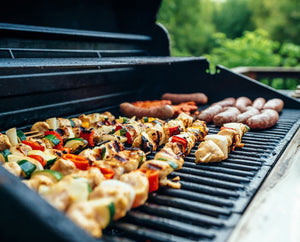 Grill mastery is within your reach this summer! Take full advantage of the warm weather by cooking your dinner over the coals. With these tips under your belt along with a few masterfully blended spices from Colorado Spice, you'll be a grill master in no time.
Clean your grill. All you need to do is brush the leftover food particles from your grate with a wire brush while the grate is still warm. This will help prevent char and burn the next time you grill.
Use a basting/chip brush. This will help you to add flavor and moisture to anything you grill! Whether you're coating veggies with oil or dousing ribs with barbecue sauce, a basting brush will always come in handy.
Use a mix of fuel on your charcoal grill. When using lump charcoal, mixing in some hardwood natural briquettes and wood chips will add another level of flavor and smokiness to whatever you grill.
Indent burgers with your thumb or a spoon to prevent shrinking. The indent helps the patty hold its shape while it cooks by preventing it from swelling too much in the center.
Use a grill basket for veggies and seafood in small pieces. This way, you don't have to worry about soaking your kebab skewers or letting small pieces of food fall through the grate and cause flames. The grill basket is ventilated and sits directly on the grill so you can get all the smokey grilled goodness without the hassle.
Don't squeeze or flatten meats. Allow the meat to hold onto that moisture and flavor! Squeezing your meats by pressing it down with the spatula may dry out your meal.
Keep flames at bay. Flames will char food. Use hot coals and hardwood to keep the heat up and flames at a minimum.
Food will continue to cook off the grill so pull your food off slightly before it is done. The last thing you want is an overcooked meal!
Rest your meat. This isn't just a grill tip, but resting meat allows flavors and moisture to redistribute. Give it a little time off the grill and out of the heat before carving.
Avoid lighting your grill with lighter fluid. You don't want those chemicals effecting your food. Try lighting charcoal in a chimney first. A chimney starter is an invaluable tool that's easy to use and offers you control when placing hot coals.
Last but not least, always remember to spice up your life! Whether you're making hamburgers, steaks, or simple grilled veggies, you can easily add some variation to your masterpieces on the grill with Colorado Spice blends. Try our Hamburger and Steak Rub, Herb and Garlic Pepper Rub, and Barbecue Seasoning just to name a few.
Leave a comment
Comments will be approved before showing up.