10 Tips to Reduce Food Waste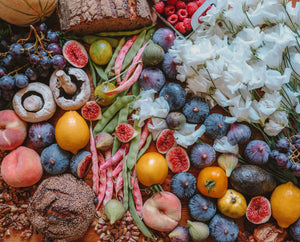 It is estimated that 30-40% of our food is sent to landfills. That's a lot of preventable waste! By reducing food waste, you can lessen your carbon footprint and save yourself some money while you're at it! Below are ten quick tips that will help you keep perfectly good food out of the garbage.
Store food correctly. Refrigerate what needs to be refrigerated and freeze what you can. Don't let food go to waste because it was left out on the counter for too long.
Check expiration dates. If it's going to go soon, use it! But make sure you know the difference between "sell by", "best by", and "use by" dates so that you're not throwing out food that may still be good.
Shop Smart. Only buy what you need/have room for. Be aware of portion sizes and meal plan for the week before going to the grocery store. 
Save your leftovers. And make sure you remember to eat them! Once a week, have a leftover night and you can clear out the fridge.
Don't avoid the ugly. Don't pass over that pepper because it's not the perfect shape! And when you have veggies that are looking less than ideal at home, throw them in a sauce! You'll never know the difference.
Keep your fridge clean. That way you can actually see what's in there! When you're going to the store you can take a quick peak and see what you need without rooting through a messy fridge. 
Buy a blender. You'd be surprised how many borderline fruits and veggies taste just fine in a smoothie. 
Learn to Preserve. There are more methods to preservation than just freezing. 
Make stock. When you've got a turkey carcass and leftover veggies from Thanksgiving, throw it in the stock pot! You can freeze that stock then and use it all year long.
Serve Smaller Portions. You can always go back for more if you're hungry but smaller portions will keep you from scraping food off your plate and into the garbage disposal. 
Leave a comment
Comments will be approved before showing up.