1 Blend 5 Different Ways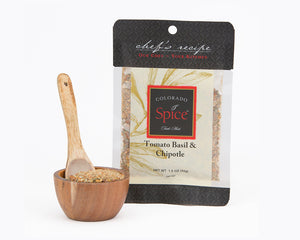 While all of our spice blends have recommended Chef's Recipes, our herb and spice seasonings are meant to be versatile so that whether you are making pasta, tacos, chicken, seafood, or tofu, you can enjoy the wonderful flavors that each blend has to offer. To show you just how versatile our seasoning blends are, we are highlighting our Tomato Basil & Chipotle Blend and the 5 different examples this one product can be used for. 
Sautéed Shrimp: Bring your large cast iron skillet to high heat with some oil, then add in some sliced onion and garlic and red peppers. Throw in your cleaned shrimp, add some Tomato Basil & Chipotle Blend and saute for about 2 minutes. Then add some diced tomatoes, broth, white wine and lemon juice. Let your shrimp cook for about 7 minutes or so. Take off heat, add some fresh parsley and enjoy your newly upgraded shrimp!
Home-Made Potato Chips: Using a mandoline, cut your potatoes in very thin slices. Place the slices into a large bowl or ice water and salt and let them soak for about 30 minutes. Drain potatoes and place on paper towels to pat dry. In a cast-iron or other heavy skillet, heat 1-1/2 in. oil to 375°. Fry potatoes in batches until golden brown, 3-4 minutes, stirring frequently. Remove with a slotted spoon; drain on paper towels. Immediately sprinkle with Tomato Basil & Chipotle Blend and you have some home-made potato chips full of zesty flavor. 
Baked Tofu & Pasta: Put a firm package of tofu into a colander in the sink with a heavy plate pressed on-top to drain the liquid from the tofu. Let this sit for about at least 30 minutes. Once tofu has drained, cut the block into cubes. In a big bowl mix cubed tofu with oil, corn-starch, andTomato Basil & Chipotle Blend. When fully coated, spread the tofu onto a baking sheet and bake for 30 minutes at high heat. Pair this delicious tofu with your favorite pasta and voila! You have a healthy meal in no time. 
Upgraded Casserole: Take your go-to creamy casserole recipe and replace your traditional seasoning with our Tomato Basil & Chipotle Blend. Pair this recipe with your favorite red wine and enjoy a comforting Italian-Latin infused casserole.  
Quinoa & Bean Salad: For a quick and flavorful quinoa salad, make a big pot of quinoa. Once your quinoa is fully cooked, add some black beans, corn, chopped green onions, cilantro, lime, a tad of honey, and our Tomato Basil & Chipotle Blend. This recipe is easy, filling, and super yummy!
~ We encourage you to make your own recipe with our blends and share your creations to be entered into our ongoing recipe contest. We will feature your recipe on our blog and social media! 
Leave a comment
Comments will be approved before showing up.